Hurricane Fiona heads to Bermuda, up to 8 dead in Puerto Rico

SAN JUAN:

Hurricane Fiona strengthened to a powerful Category 4 storm on Wednesday as it headed toward Bermuda after carving a destructive path through the Dominican Republic and Puerto Rico, where the storm left most people without power and up to eight dead.
After making landfall in Puerto Rico on Sunday, Fiona caused devastating flooding and landslides on the island. Over the next two days, the storm gathered steam as it barreled into the Dominican Republic and the Turks and Caicos Islands.
Fiona packed winds as high as 130 miles per hour (215 km per hour) on Wednesday and was expected to strengthen as it moved north toward Bermuda, though no direct hit is forecast for the British territory, the U.S. National Hurricane Center (NHC) said. Fiona could reach Canada's Atlantic coast on Friday.
Eric Blake, acting branch chief for the NHC in Miami, said Bermuda would see high surf, storm surges, heavy rainfall and powerful winds even if Fiona kept on its current path and passed to the west of the island. Bermuda will see the worst of the storm by late Thursday, the NHC said.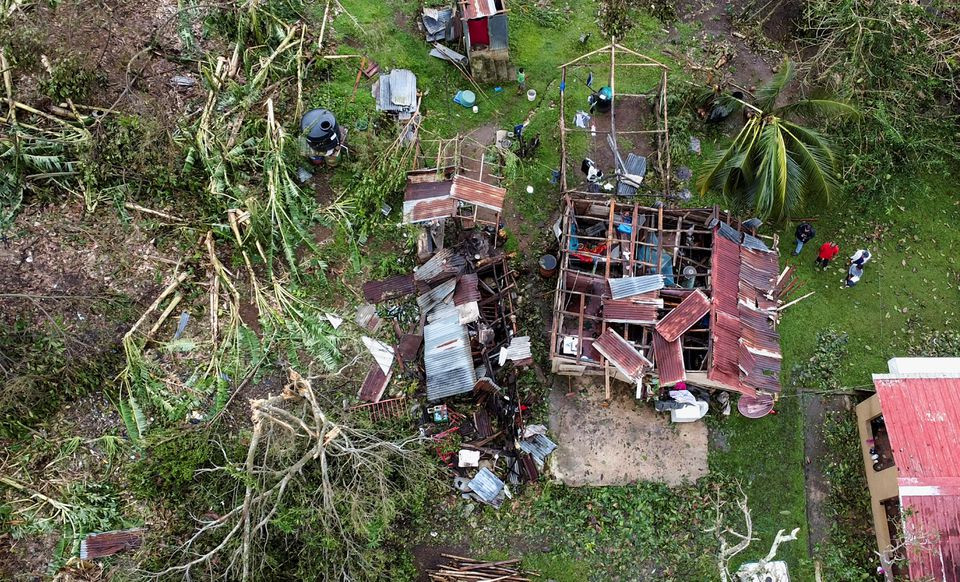 "Hopefully, the core of the storm will stay west, but it could still jog east and hit Bermuda," Blake said, adding that the U.S. East Coast would experience large swells and rip currents as the storm churns toward Canada.
"This will be a big deal up there," he told Reuters, referring to Fiona's track toward Canada's Atlantic provinces of Nova Scotia, and Newfoundland and Labrador.
In Puerto Rico, where 40% of the island's 3.3 million residents were still without water and three-fourths were lacking power, authorities were trying to determine the scale of the destruction and start rebuilding.
U.S. President Joe Biden on Wednesday approved a disaster declaration for Puerto Rico, which makes federal funding available for individuals affected by the storm, the White House said in a statement.
Fiona might have caused at least eight deaths, including that of a sick 4-month-old infant whose mother struggled to get to the hospital due to blocked roads, Dr. Maria Conte Miller, director of the Institute of Forensic Sciences, said in at roundtable on Tuesday. The deaths are under investigation.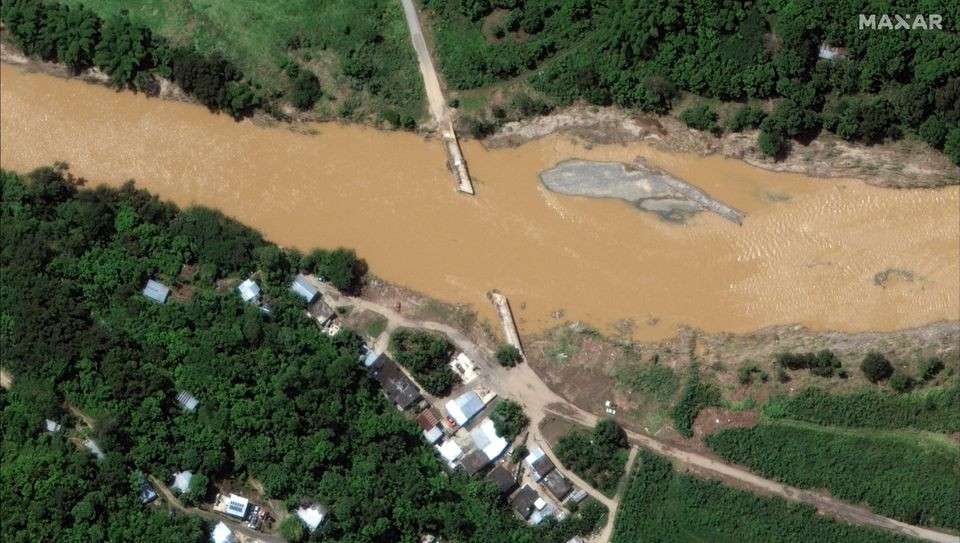 The U.S. Federal Emergency Management Agency has so far attributed four deaths to the storm in Puerto Rico. A fifth person was killed in Guadeloupe earlier in the week.
For many Puerto Rico residents, the memory of Hurricane Maria in 2017 is still fresh. Some 3,000 people died in that Category 5 storm, which left the entire island without electricity for a week. 
Marylou Maldonado, 45, a saleswoman from the town of Camuy in northwestern Puerto Rico, said water was restored to her residence on Tuesday, but that the governor and energy provider failed to fulfill their promise to restore power to her region.
"People are under a lot of stress," she said. "Here in this area, the crisis is emotional. It is emotional because of the frustration of not having electricity and that we are being lied to."
An estimated 1.07 million homes and businesses remained without power in Puerto Rico by midday on Wednesday, according to LUMA Energy, which has said full restoration to all 1.5 million customers could take several days. 
The Bermuda Weather Service has issued a tropical storm warning for the British territory, 600 miles (966 km) east of the U.S. state of North Carolina. Hurricane-force winds are a possibility depending on the storm's path, it said.
Michelle Pitcher, deputy director of the service, said the country is "like a point sticking up out of the ocean" that had no protective shores, meaning severe flooding was more of a danger.
Even so, Pitcher said, Bermuda is ready for what Fiona has in store for the island.
"Bermuda residents are very well practiced in preparing for storms," she said. "We build strong houses."
'Iran will act decisively after biggest protests in years'

DUBAI:

Iran must deal decisively with protests which have swept the country after the death in custody of a woman detained by the Islamic Republic's morality police, President Ebrahim Raisi said on Saturday.
At least 41 people have been killed in the week-long unrest, state television said on Saturday. It said that toll was based on its own count and official figures were yet to be released. Protests have erupted in most of the country's 31 provinces.
State media quoted Raisi on Saturday as saying Iran must "deal decisively with those who oppose the country's security and tranquillity".
Raisi was speaking by telephone to the family of a member of the Basij volunteer force killed while taking part in the crackdown on unrest in the northeastern city of Mashhad.
The president "stressed the necessity to distinguish between protest and disturbing public order and security, and called the events … a riot," state media reported.
The protests broke out in northwestern Iran a week ago at the funeral of Mahsa Amini, a 22-year-old Kurdish woman who died after falling into a coma following her detention in Tehran by morality police enforcing hijab rules on women's dress.
Her death has reignited anger over issues including restrictions on personal freedoms in Iran, the strict dress codes for women, and an economy reeling from sanctions.
Read more: Iran's Revolutionary Guards issue warning as protests over woman's death spread
Women have played a prominent role in the protests, waving and burning their veils. Some have publicly cut their hair as furious crowds called for the fall of Supreme Leader Ayatollah Ali Khamenei.
The protests are the largest to sweep the country since demonstrations over fuel prices in 2019, when Reuters reported 1,500 people were killed in a crackdown on protesters – the bloodiest confrontation in the Islamic Republic's history.
On Friday, state-organised rallies took place in several Iranian cities to counter the anti-government protests, and the army promised to confront "the enemies" behind the unrest.
In neighbouring Iraq, dozens of Iraqi and Iranian Kurds rallied outside the United Nations compound in the northern city of Erbil on Saturday, carrying placards with Amini's photograph and chanting "Death to the Dictator", referring to Khamenei.
State television in Iran, which has accused armed exiled Iranian Kurdish dissidents of involvement in the unrest, said Iranian Revolutionary Guards had fired artillery on bases of Kurdish opposition groups in the Kurdish region of northern Iraq.
'Deadly response'
At least three times this week, mobile Internet has been disrupted in Iran, the NetBlocks watchdog has reported. Activists say the move is intended to prevent video footage of the violence reaching the world.
On Saturday NetBlocks said Microsoft's (MSFT.O) Skype video calling app was now restricted, the latest such measure after platforms including Instagram, WhatsApp and LinkedIn were targeted.
In an effort to help sustain internet connection, the United States is making exceptions to its sanctions regime on Iran – a move which Tehran said on Saturday was in line with Washington's hostile stance.
Rights group Amnesty International said protesters face a "spiralling deadly response from security forces" and called for an independent United Nations investigation.
On the night of Sept. 21, shootings by security forces left at least 19 people dead, including three children, it said.
"The rising death toll is an alarming indication of just how ruthless the authorities' assault on human life has been under the darkness of the internet shutdown," Amnesty said.
State television showed footage purporting to show calm had returned to many parts of the capital Tehran late on Friday.
"But in some western and northern areas of Tehran and certain provinces rioters destroyed public property," it said, carrying footage of protesters setting fire to garbage bins and a car, marching, and throwing rocks.
The activist Twitter account 1500tasvir carried videos of protests near Tehran university on Saturday. Riot police were seen clashing with protesters and arresting some.
Videos posted on social media showed continued protests in Sanandaj, capital of Kurdistan province, late on Saturday, despite a heavy police presence. Reuters could not verify the videos.
At least 26 killed in rain-related incidents in India

NEW DELHI:

At least 26 people were killed in rain-related mishaps in the northern Indian state of Uttar Pradesh in the last 48 hours, officials said on Saturday.
According to state officials, the casualties occurred as a result of building collapse, lightning strikes, and drowning reported from different parts of Uttar Pradesh affected severely by torrential rains.
"In the last 24-48 hours, 26 people have died in rain/lightning-related incidents across the state," relief commissioner Prabhu N Singh said. "We have sent an alert to all district magistrates. The immediate rescue and relief operation is the top priority, and teams are hard at work on it."
Read more: India's monsoon to start its retreat in next two days
Rainfall also lashed other regions of northern India, including the national capital New Delhi, causing life to grind to a halt due to severe waterlogging and snarled-up traffic.
The authorities have ordered the closure of schools on Friday in the cities of Noida and Gurugram on the outskirts of the capital.
Mahesh Palawat, the chief meteorologist of Skymet Weather Services, told Anadolu Agency that the current rainfall is the final phase of monsoon rains across northern India.
"The northern parts of India have been experiencing intermittent rainfall for the last three days, which has also resulted in waterlogging at some places," he said, adding that the intensity of the rainfall will decrease on Sunday and the current weather trend will end on Monday.
Indian nationals in Canada to exercise caution citing hate crimes

NEW DELHI:

The Indian government on Friday advised its nationals in Canada to exercise caution citing "incidents of hate crimes, sectarian violence and anti-India activities in Canada."
Police in Texas arrested a woman who they said shouted racial abuse at four Indian women in a viral video, telling them to "Go back to India," in an incident happened earlier in August brought to the attention of federal authorities.
"This incident is a hate crime in accordance with Texas laws," police in Plano, Texas, where the incident occurred, said in a statement on Saturday.
"This incident may also be a hate crime based on federal law, and we are working closely with the FBI and the Department of Justice Civil Rights Division on this case."
In a video of the incident, which was shared on social media and got millions of views, the woman was seen shouting racist comments in a parking lot at a group of four women of Indian origin.