Mathira reacts to Kiran Tabier's comment
A follower compared Judwaa actor Kiran Tabier to TV host Mathira on Instagram after she posted a series of pictures. Taking offence to the supposed resemblance, Kiran snapped at the follower in a sarcastic tone for being a woman and yet making the connection. When the comment reached Mathira, the television host released a statement to clap back saying being compared to her is "not a swear."
On Sunday, Mathira took to her Instagram stories with a screenshot of a viral post that displayed Kiran's comment on a collage of the two and wrote, "Being compared to me is not a swear (curse) or a bad word but if you think that, then that's your head. Anyways, people should salute your thinking. Why do people think I'm that bad?"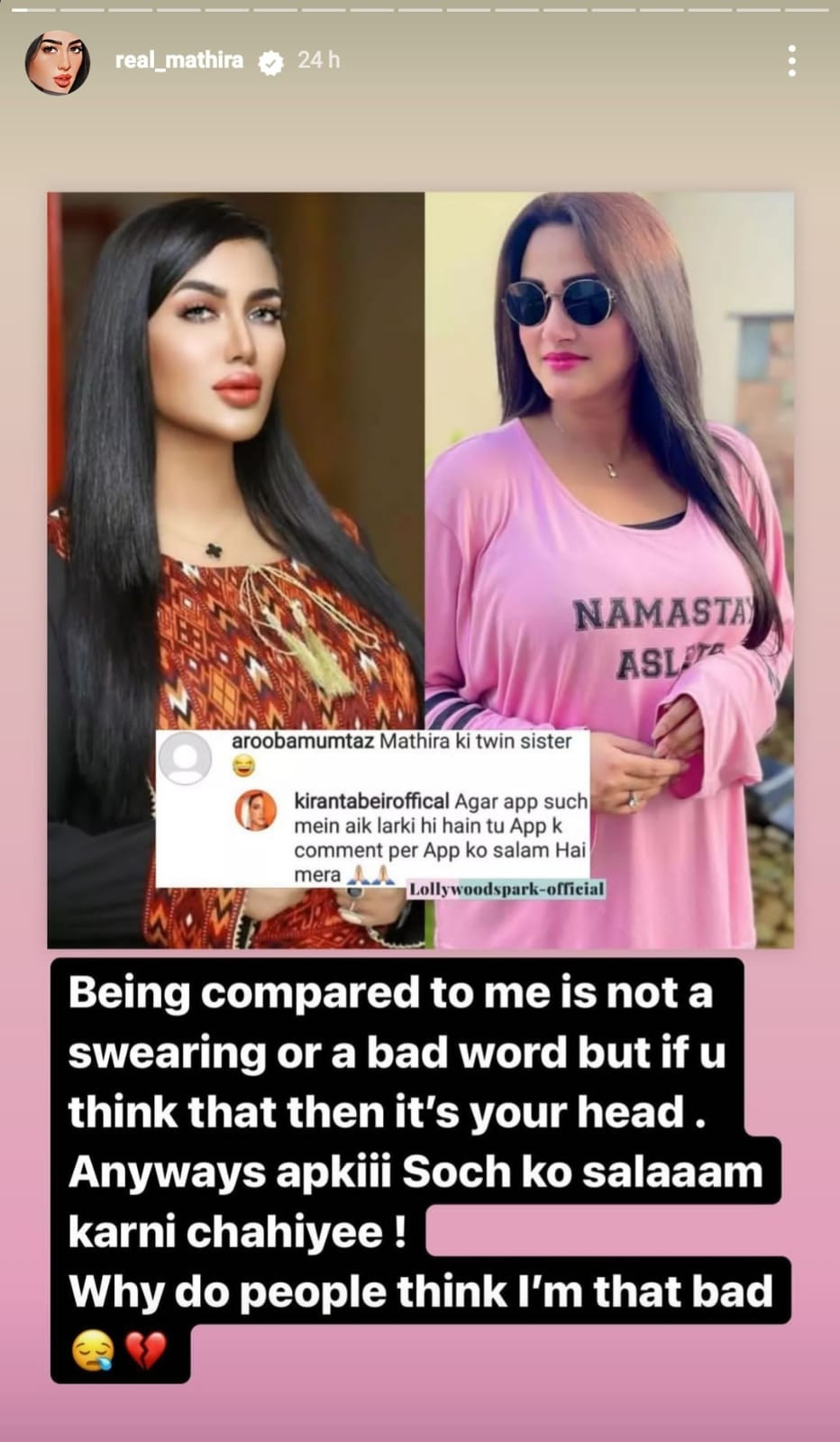 The controversy began when Kiran posted pictures in a pink t-shirt where a follower commented, "Mathira's twin sister." The actor was quick to snap back and wrote, "If you're actually a girl writing this then I salute you on your comment."  After their sarcastic exchange went viral, she turned off the comments on her post.
Earlier this year, Kiran became the face of the viral Fiza Shiza meme when her short film Judwaa-Haqeeqat was highly criticised for its storyline.
Reacting to the memes and all the videos, she took to the photo-sharing app and  commented, "What's more important is that we talk about problems which need to be addressed." Kiran added, "The same issues of our country that need our voices, our support and the need to be trending [on social media]. Please use your time and energy wisely. Someone might benefit from it. Otherwise, it is up to you. Keep enjoying memes about Shiza and Fiza."
Richa Chadha, Ali Fazal to reportedly get married this year
Actors Richa Chadha and Ali Fazal are all set to get married towards the end of September, according to a report by Pinkvilla. This isn't the first time the couple, who first appeared on screen together in the 2013 comedy Fukrey, have tried to go ahead with their wedding celebrations. As Chadha explained, the new variants of the pandemic put a halt to their plans previously.
However, now, the Gangs of Wasseypur star has shared she will tie the knot with the Mirzapur actor this year.
When enquired about her wedding plans, Richa told News18, "We will get married this year, will marry somehow. We're very excited to get married but [we are] just worried about Covid and want to be responsible. [We] don't want to be in the news for the wrong reasons." She added, "Plus, we've both gotten really, really busy when stuff opened up, and work resumed at full pace. So I'm saying we have to like do a live production job of taking combination dates and making this happen this year."
Earlier, speaking to Mashable India, the Masaan actor said "Every time we think of getting married, a new variant [of Covid-19] arises. First, it was Delta, then Omicron. We had already booked places for our wedding back in 2020, but then the pandemic hit our country. Then again in 2021, we tried to go ahead but the destructive second wave came and the situation wasn't that good, so we decided to hold on."
However, the wedding buzz is stronger than ever this time around, with two ceremonies being planned – one in Mumbai and the other in Delhi – with family and close friends in attendance. The ceremonies will be followed by a Mehendi and Sangeet ceremony, concluding with a grand reception in Mumbai with a guest list of 350–400 people.
As the wedding planning is underway, fans eagerly await the couple reuniting on-screen in Fukrey 3, scheduled to release towards the end of the year.
Have something to add to the story? Share it in the comments below.
Kareena calls Alia the 'finest' actor of the last decade
There's no space for negativity but only support and open validation in the Kapoor family! Bollywood actor Kareena Kapoor came to sister-in-law Alia Bhatt's defence after people commented on how young she is to have a child. Touting her as "the finest actor" in the last decade, the Laal Singh Chaddha actor praised Alia's decision of embracing motherhood at 29.
In conversation with Pinkvilla, Kareena was recently asked if she has any advice for the young actor, who's been at the forefront of people bringing her down about her pregnancy. The Veere Di Wedding star, who thinks pregnancy is a "very normal" for the "supremely talented' actor, shared, "She doesn't need advice on anything…I think that she is the finest actor that has happened in the last decade and for her to be embracing motherhood you know at such a young age, and to choose to do that."
With great confidence, she added, "She is such a brave actor, and such a brave person. It's (pregnancy) the most normal thing, and you know she is possibly going to continue this great run of her career because she is supremely talented. And that's what you need to have conviction in your own self. It's the most important thing."
Every time Alia was asked about her favourite actor since childhood, she has taken Kareena's name. The duo, although starring alongside each other  in the 2016 film Udta Punjab, have never done a project which sees them both on screen together.
All of these pregnancy questions and conversations came to Kareena after she herself had to deal with third pregnancy rumours. The actor said that she was not bothered by the comments but just wanted to "have some fun after seeing her photoshopped pictures in which she appeared to be 'six months pregnant."
On the work front, Kareena will soon be seen in Laal Singh Chaddha opposite Aamir Khan. The Advait Chandan directorial is the remake of Tom Hanks-starrer Forrest Gump, and also stars Naga Chaitanya and Manav Vij.
I'm a liberal, feminist, woke member of my society: Armeena Khan
Armeena Rana Khan, who has always called spade a spade, has asked trolls to 'look elsewhere' if they want to follow a certain mindset. Taking to Instagram, the Balu Mahi star commented that she has a right to express her opinion as well.
Khan shared a few nasty comments she had received on her social media accounts and highlighted how she usually deals with trolls. The first user pointed out the actor's 'questionable' dressing, which ultimately – as the user shared – proved her lack of faith.
"Even iblees [the devil] has minions, and so it is with all evil. This is an example of a dark soul, who enables misogyny to remain," Khan responded.
"Imagine, if something happened to her own future daughter or a member of her family. We've only just seen a viral video of a burka-clad woman groped in the street and the man in question remains at large. I doubt this is anything to do with clothing but more with mindsets."
Another one added that the aforementioned comment is incited by the 'cheap' style of dressing and added it as a result of "exposing" themselves.
To this, the actor quipped, "As a Muslim why are you on Instagram? I don't understand. For example, if I don't drink, why are you in a pub? If you are so lame, get off this non-Muslim on enterprise if it offends you and go be a proper Muslim.| She added, "The truth is most of you are just cultists and demand rights you others."
One user shared how Pakistani actors are stepping in to defend Indian actors often. To this, Khan responded that the person had initially spoken about how local stars are sidelined after reaching a certain age. "I agree with her because even here, an actor after a certain age is sidelined. But it's not your fault, perhaps you don't have enough exposure or thought process to understand the depth of the given topic."
Concluding her stance, the actor wrote a descriptive note on why she has been very vocal about online bullying. "Oh, I have the right to put on my opinions just like you have the right to not consume them. But please make no mistakes I'm a liberal, feminist, woke (whatever labels you wish to endow me with) plus a constructive tolerant contributing member of my society."
She added, "My views are in accordance with global principles and values. I'm also very vocal on social causes because if this is unpalatable then I'm afraid you'll find this space extremely hostile. I am sure you can look elsewhere to find indivdiuals catering to your specific worldview."
This wasn't the first time Khan had called out problematic takes. The actor previously shared her feelings about extremism playing its way into Pakistan's entertainment industry, clarifying that she was not targeting any specific artist.
The actor had then shared in a tweet, "Advancing acting careers using religious extremism seems to be quite the 'in' thing these days." She then asked with a giggling emoji, "Can't make it without huh?"
The Bin Roye star elaborated on her jibe in another tweet saying, "I've also observed that no matter what religion you follow if you're an extremist then your interpretation of that religion will also be extreme." On the contrary, she reinstated how a "well-balanced person" will interpret their religion with just that; "balance."
Now, agitated by the parallels being drawn, the actor has assured that she was not referring to any artist in particular. "I'm really disliking the fact that my tweets are being attributed to specific artists," she tweeted. "Please bear in mind that I have not named anyone nor do I indulge in personal attacks. That is not my style. My commentary is on the general, sudden right-wing 'shift'."