Mohsin Naveed Ranjha and Sara Ali Khan meet up in London
Lahore-based fashion designer Mohsin Naveed Ranjha and Indian actor Sara Ali Khan were recently spotted smiling for the camera in a sun-lit selfie in London.
Ranjha was dressed in jeans and a well-fitted navy blue polo while Khan opted for a more casual, yet effortlessly stylish route, clad in a white tank top and pink track pants.
This surprising meet-up instantly left their followers speculating about the possibility of a future collaboration between the renowned couturier and the Love Aaj Kal actor.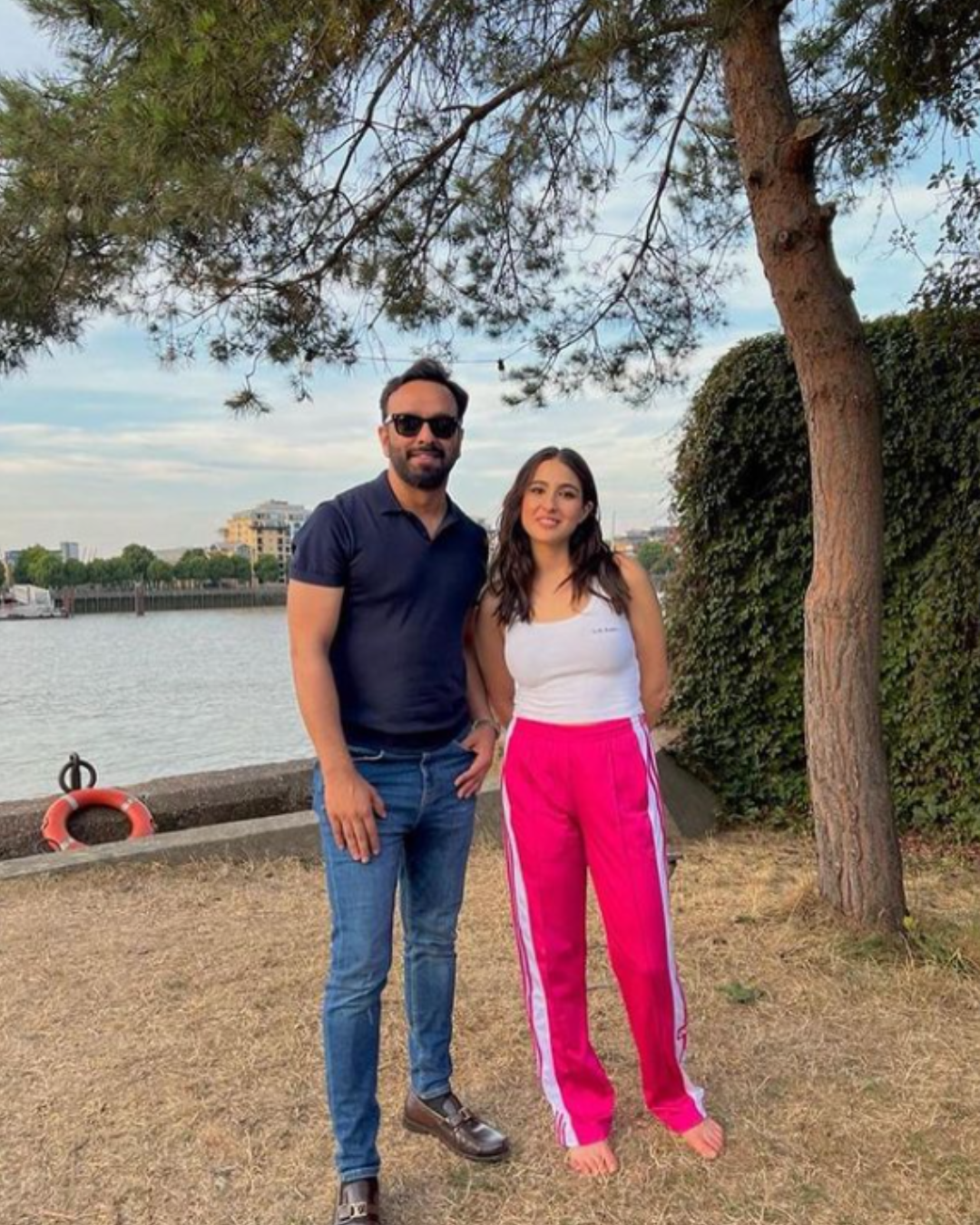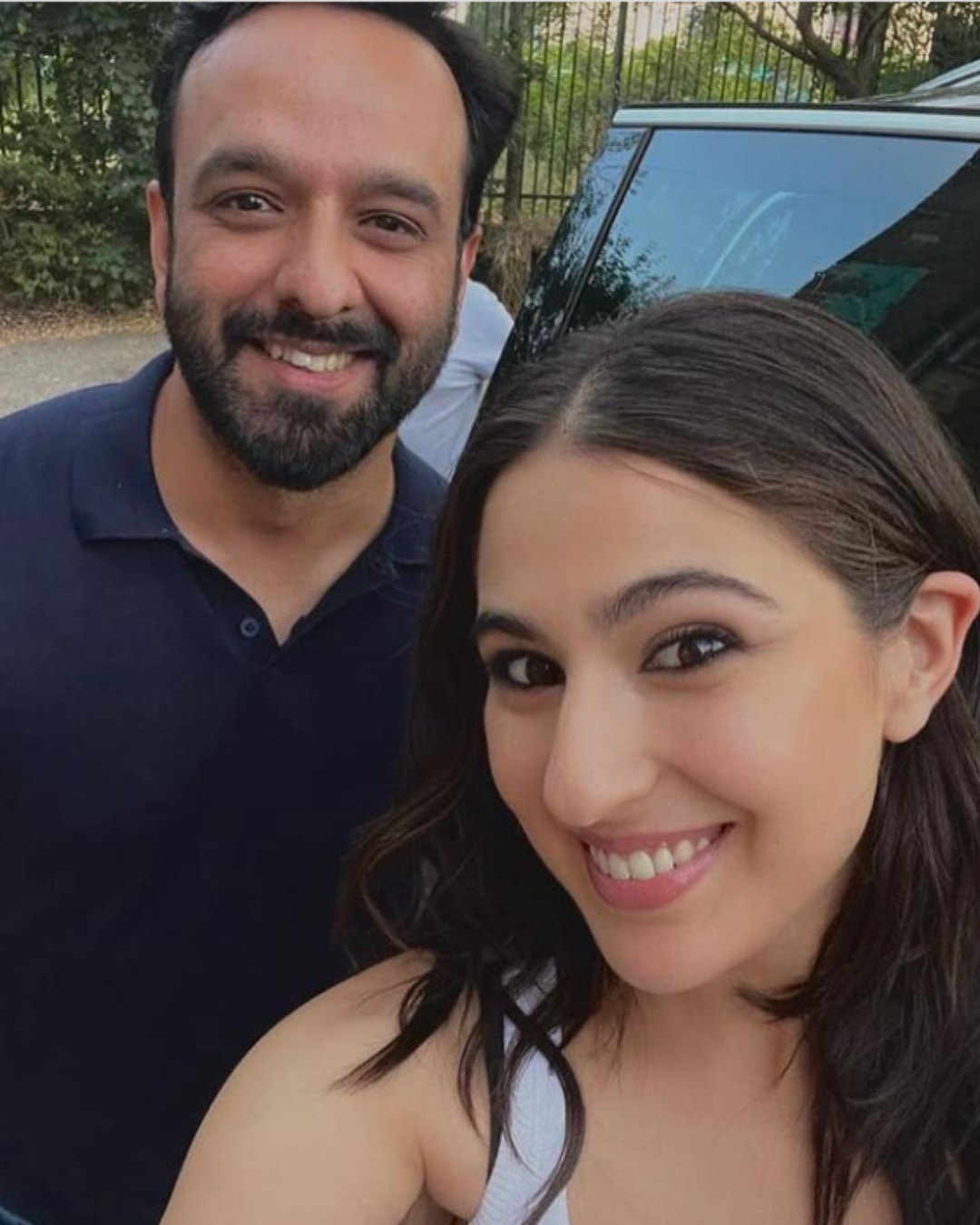 Ranjha's creations are known for their traditional design rooted in Eastern heritage, intricate craftsmanship, and bold colour palettes. Due to his unique ideas and tremendous skill, Ranjha has many big-name collaborations to his name, including showcasing his work through famous celebrities including the likes of Mahira Khan, Sonya Hussyn, Maya Ali, and Atif Aslam.
Ranjha's work gained global recognition after British-Pakistani star Tan France wore one of his designs to the British Fashion Awards in 2021. Ranjha is also accredited with designing outfits for a few members of the local award-winning movie Joyland that walked the red carpet at the 2022 Cannes Film Festival. Most recently, one of his bridal outfits was featured on Ms. Marvel, bringing his designs to the screens of Disney+.
Therefore, it is no surprise that Ranjha and Khan's followers are restlessly awaiting the truth behind their surprise meet-up, especially if another big-name collaboration is revealed soon.
Have something to add to the story? Share it in the comments below.
Here's what your shoes say about your personality
They say you are what you eat, but really it's you are what you wear! Your wardrobe can give away a lot about you – and not just about your taste but also your personality. We often think it is the colour or the style of clothes that define us the most but no, it is actually the kind of shoes you are most comfortable in that speaks volumes about the kind of person you are.
A stiletto and sneaker girl cannot scream the same personalities and we all know it. Compiled from Reader's Digest, here's a list of which shoes reveal what about you.
High-heeled boot wearers take charge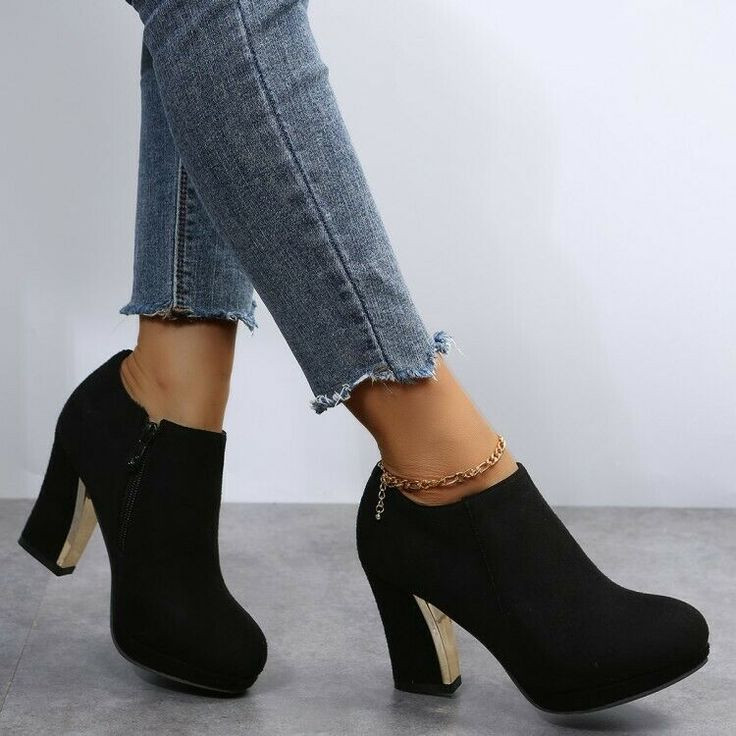 Taller, smarter, and clearer! In times of crisis, a person who loves wearing high-heeled boots will always be quick on their feet and take control of the situation. Leadership qualities are a plus one with high-heeled boots! Boots generally scream confidence and with heels added, this woman's self-assurance makes her seem trustworthy and safe for people to depend on.
Running shoe fans are goal-oriented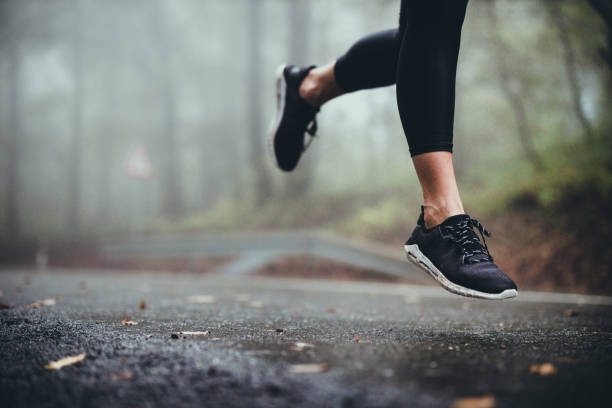 We all have a friend who wears running shoes everywhere! Well, it's not always a bad thing. It signifies that they enjoy challenges and are very goal-oriented; whether it's finishing a silly new hobby or standing your ground on New Years' resolutions. Naturally, they're organised and very social too. With running shoes on, multi-tasking is an art they master.
Flats fans are behind-the-scenes leaders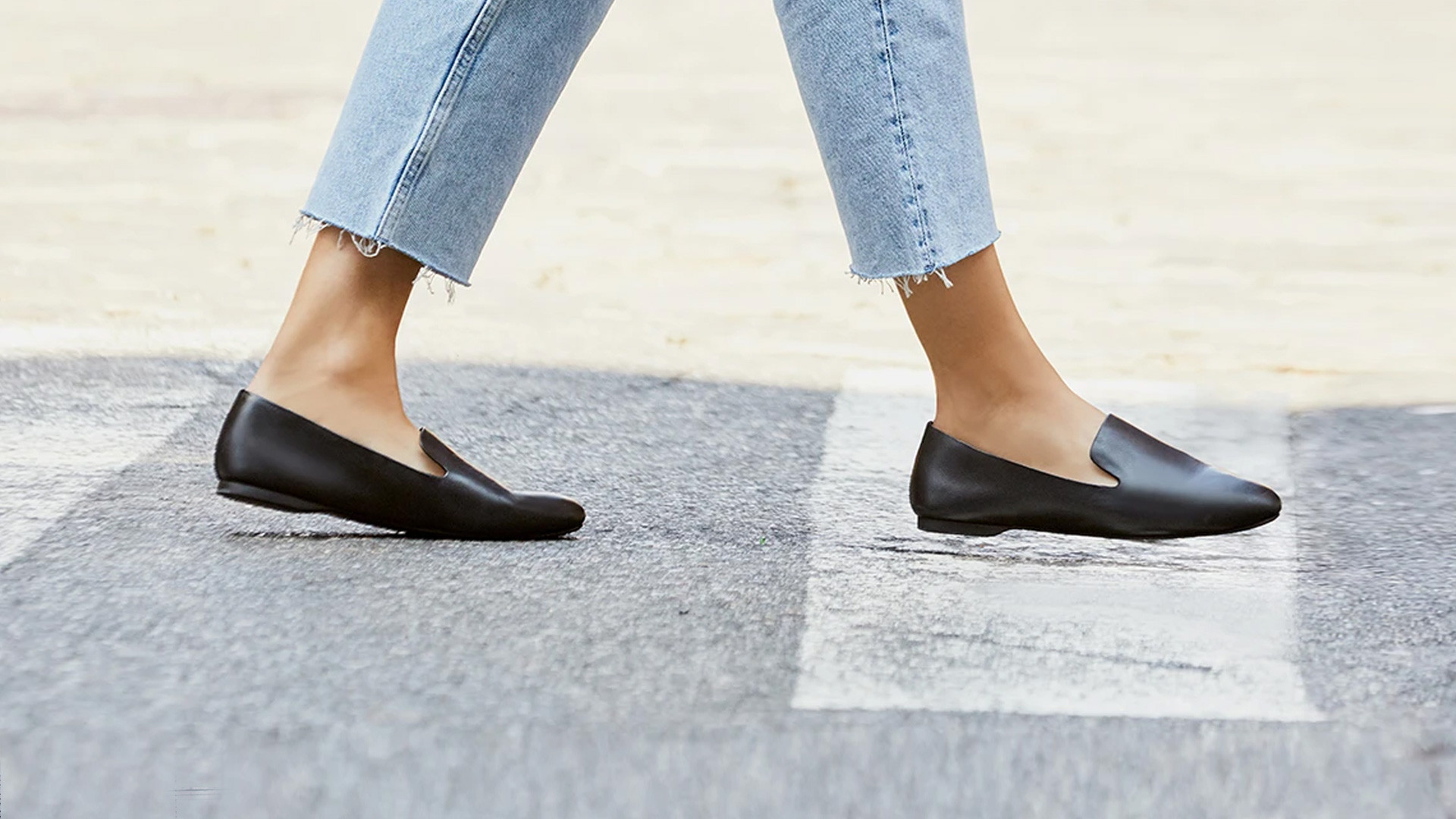 Flats, like the name suggests, are at the lower end of the food chain but that doesn't mean they're not hardworking. They just do not enjoy the limelight but are geniuses through and through. Despite ensuring a perfect product in the end, they enjoy being behind the scenes. Essentially, they're the humble backbones that don't require applause but deserve it all!
Women in flashy stilettos work hard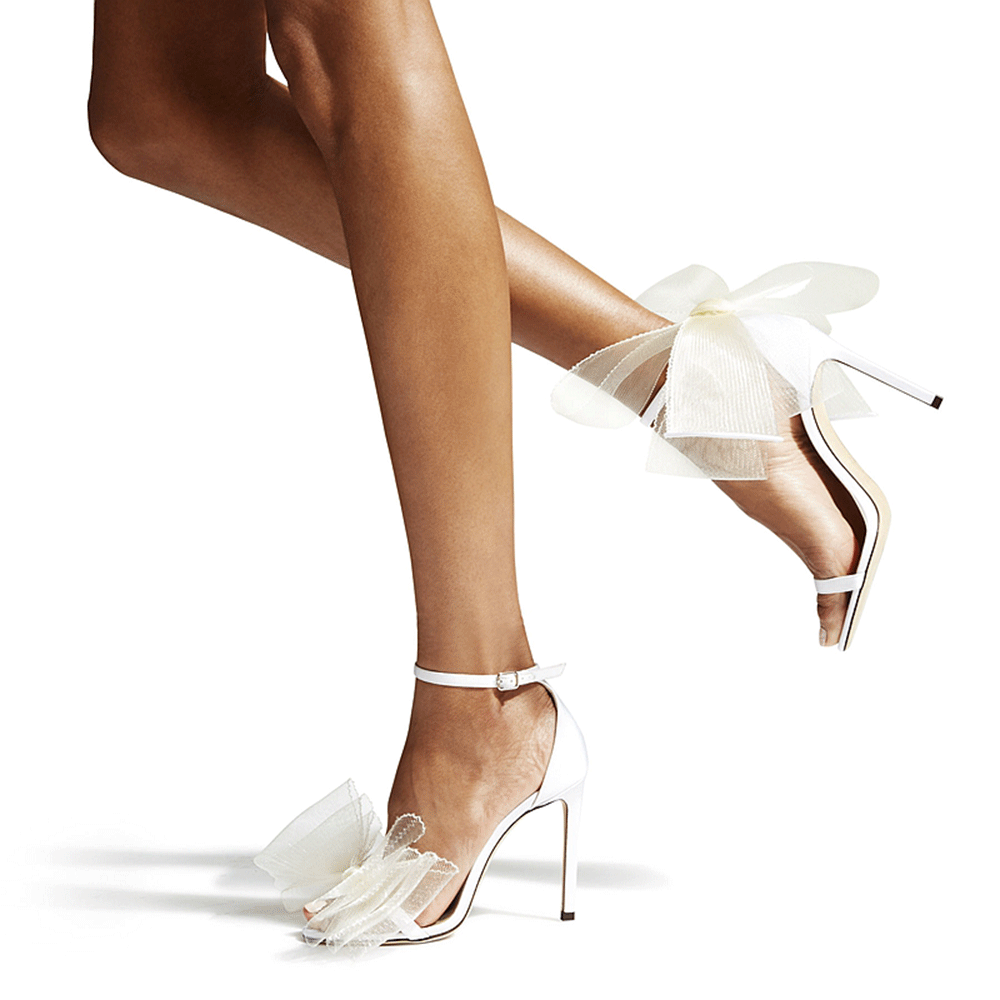 Just like in movies, women who wear flashy stilettos own the energy in the room. They have drive, determination and a standout work ethic. Apart from being open to new ideas and opportunities with an adventuristic spirit, they're also appreciative of the beauty around them. Their work is inspired by aesthetics and they make the space around them welcoming for people to feel comfortable in.
Flip-flop fans are laid back
If you can think of a person who procrastinates a lot and lives by the "go with the flow" and "live in the moment" mantras, then we bet they're always in flip-flops. They're not really bothered by societal pressures of fulfilling a certain aesthetic, rather they follow their own bliss and stay unconventional with their easygoing nature — and it definitely is a vibe!
Sneaker buffs get along with everyone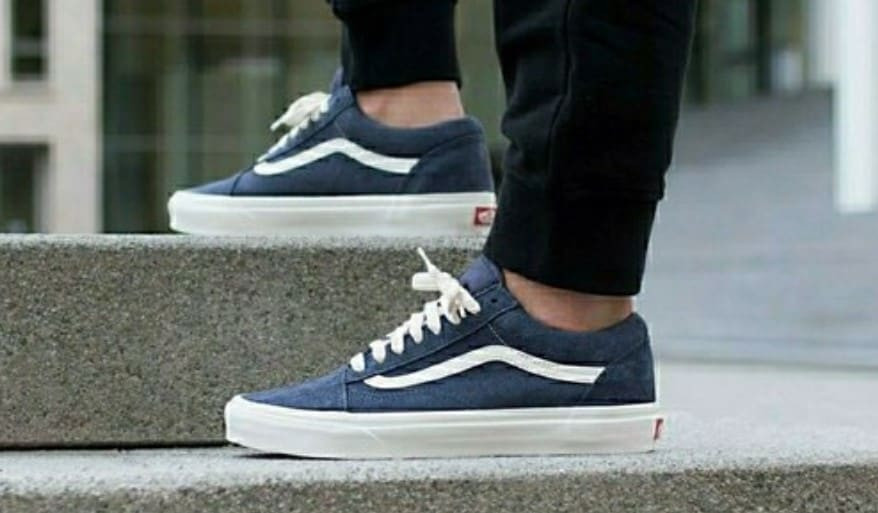 Sneaker lovers are social butterflies and you can't fight us on it! They have a knack to connect with people much younger than them but can also somehow comfortably converse with people much older than them. They are the life of the party always because of how versatile and fluid their energy is.
Pump fans are boss women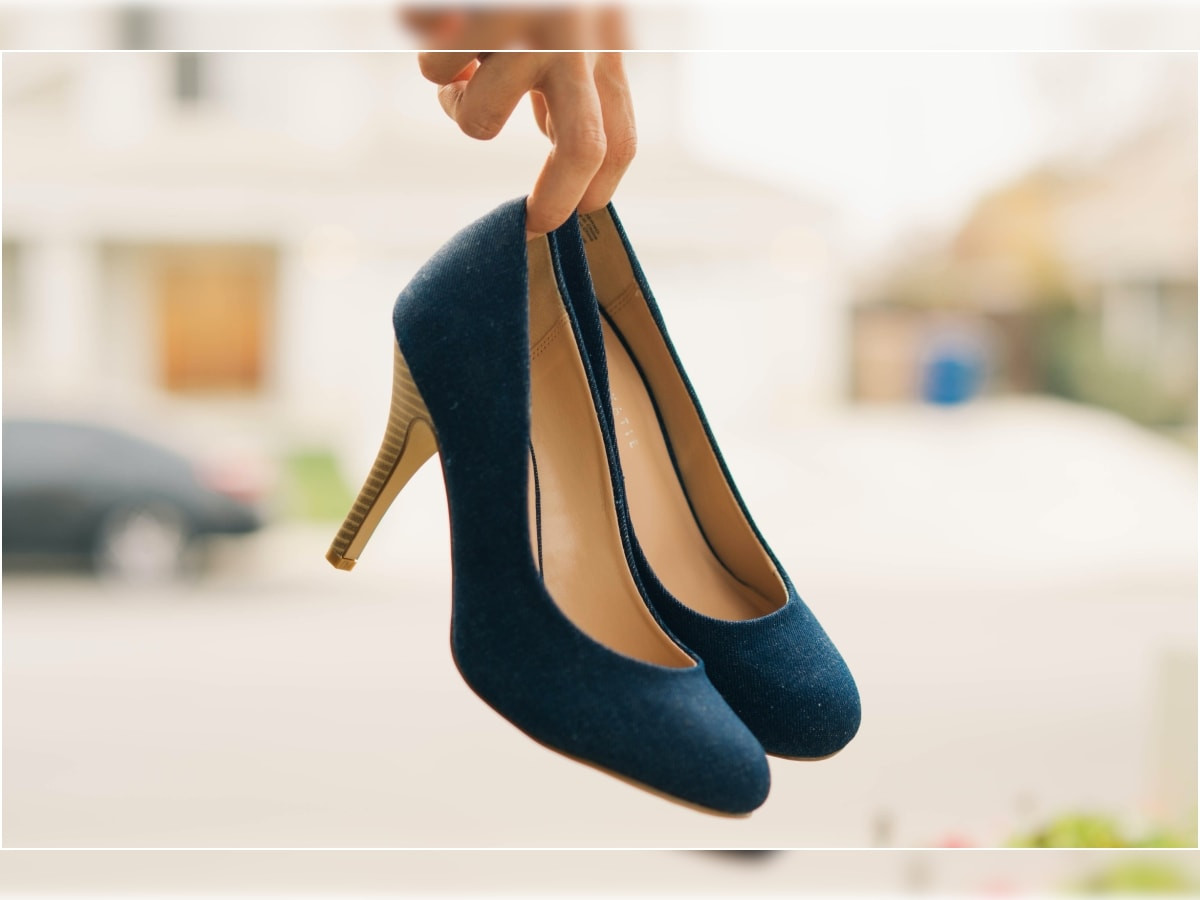 Be honest, pump fan, you're a total "girl boss" and you know it. The first "compliment" you often get is how intimidating you look and yet you're the most caring person in the room always. From being powerful, competitive, and resolute to being reliable and dependable, pump women are mostly in leadership roles. It suits them the most!
London Fashion Week begins with tributes to Queen Elizabeth

LONDON:

From an open all-black look to models carrying a picture of Queen Elizabeth, London Fashion Week kicked off with tributes to the late monarch as fashionistas paid their respects during the period of mourning national.
Organisers announced last week that London Fashion Week would be run as a "business-to-business event" respecting royal protocol and paying tribute to the 96-year-old queen, who died on September 8. Holidays have been postponed and performances on Monday, the day of the Queen's state funeral, have been rescheduled.
While major brands such as Burberry and Raf Simons, among this season's most anticipated highlights, pulled out of the September 16-20 event, for smaller labels to do so is somewhat misleading.
"So the shows and presentations, which is the business-to-business part where designers show their collections to international media, retailers, designers… (is) part of a global fashion calendar. It can't be displaced," Caroline Rush, chief executive of the British Fashion Council, told Reuters.
"London is a platform for incredible creative businesses, a lot of independent businesses, and they've already made the spend. So we need to make sure we're supporting them to be able to continue."
Among the planned tributes is a book of condolence from the fashion industry to be shared with the royal family, and fashionistas will join in a national moment of reflection – a minute's silence – on Sunday evening at 8pm (1900 GMT) ahead of Christopher Kane. 
On Thursday evening, designer Daniel W Fletcher held a minute's silence before sending out his first model in a black suit and a black armband.
"I thought as we were opening the event it was important to mark that moment," Fletcher told London's Evening Standard newspaper.
Spanish sustainable brand Sohuman ended its show on Friday with models, their eye make-up smudged as if they were crying, holding a picture of Elizabeth and with drawings of the crown or "RIP" written on their hands.
Designer Javier Aparici's colorful collection consisted of dresses in bold hues or floral prints. "After the pandemic, the situation around the world is very complicated," he told Reuters. "And we think it's important to empower the woman with many colors of flowers, attitude, energy."
Have something to add to the story? Share it in the comments below. 
Fashion fails at Emmys 2022
Emmys 2022 was one of the first star-studded, power-packed nights since the outbreak of the Covid-19 pandemic in 2020, which put a myriad of award shows on hold.
As stars put their best foot forward, celebrities including the likes of Zendaya, Sandra Oh and Elle Fanning, dazzled on the red carpet. But the evening, unfortunately, witnessed a plethora of fashion faux pas too, with some celebrities not getting the memo and turning up in disastrous ensembles.
Compiled from Daily Mail, here is a lowdown of the stars who missed the mark at this year's event.
1. Julia Garner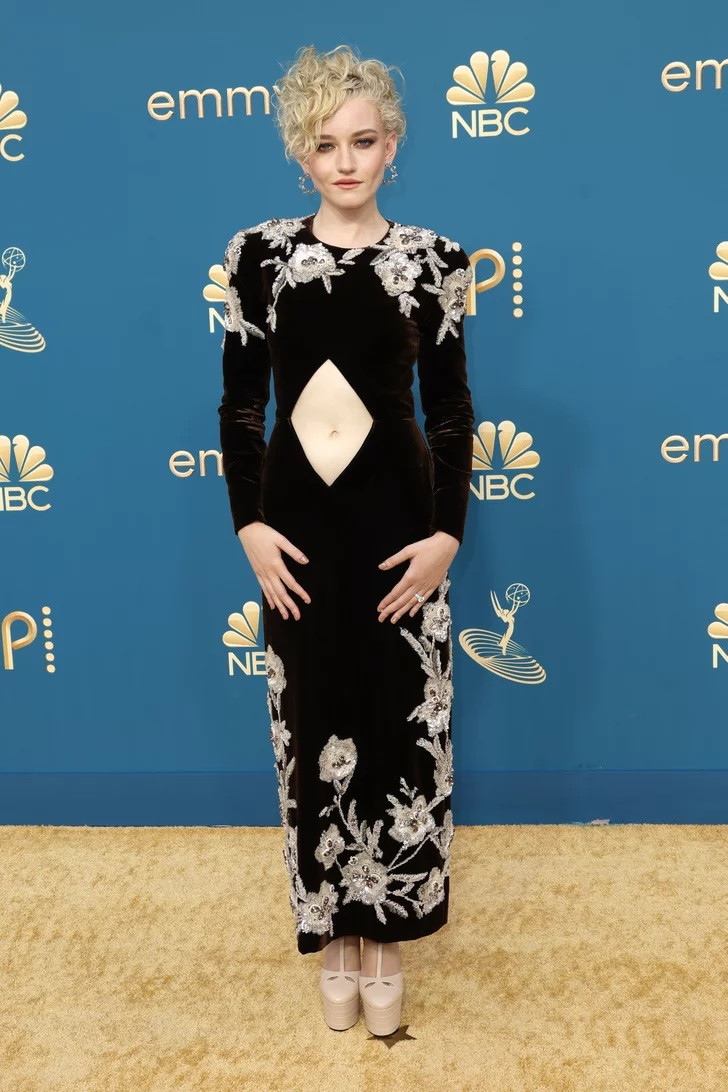 She is undeniably a stellar actor and winning the best supporting actor award is proof of the same, however, Garner's outfit for the Emmys was one big fashion fail! Flaunting her belly in a black velvet dress, the cut-out design was positioned over her stomach in the shape of a large diamond and did not appearing flattering at all.
The dress featured shoulder pads with dull floral sequin appliques dominating the neck and hemline. Garner rounded out the look with a pair of nude sky-high heels and her bright blonde hair was swept up in wild curls.
2. Sydney Sweeney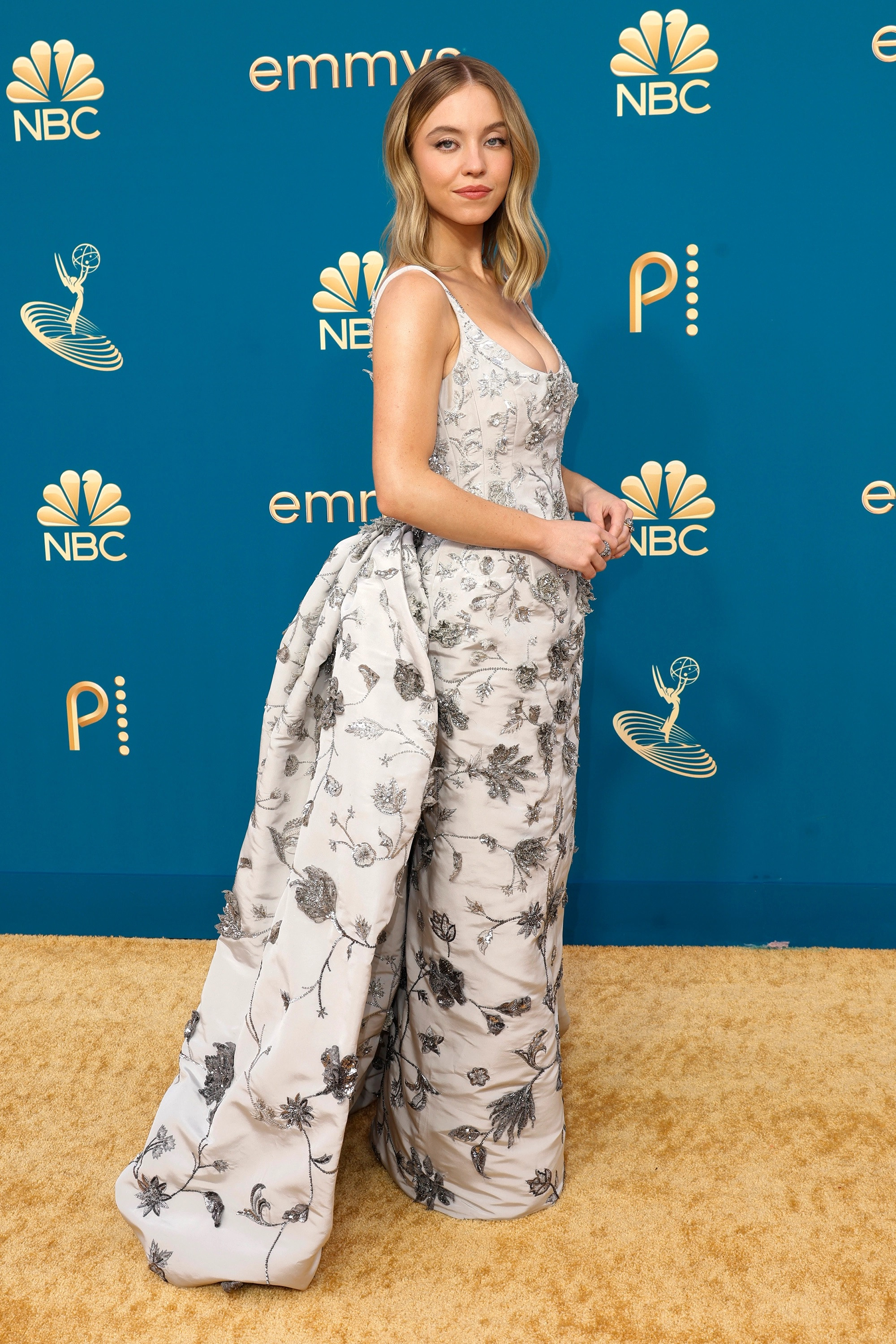 While the world was surprised with her flawless performance in Euphoria, it was as astonished by her custom Oscar de la Renta dress. Despite being known for her petite hourglass frame, the outfit's pleated design and weighted taffeta fabric created a clunky silhouette. It was covered in beaded floral appliques and looked nothing like a luxury designer gown.
3. Kaley Cuoco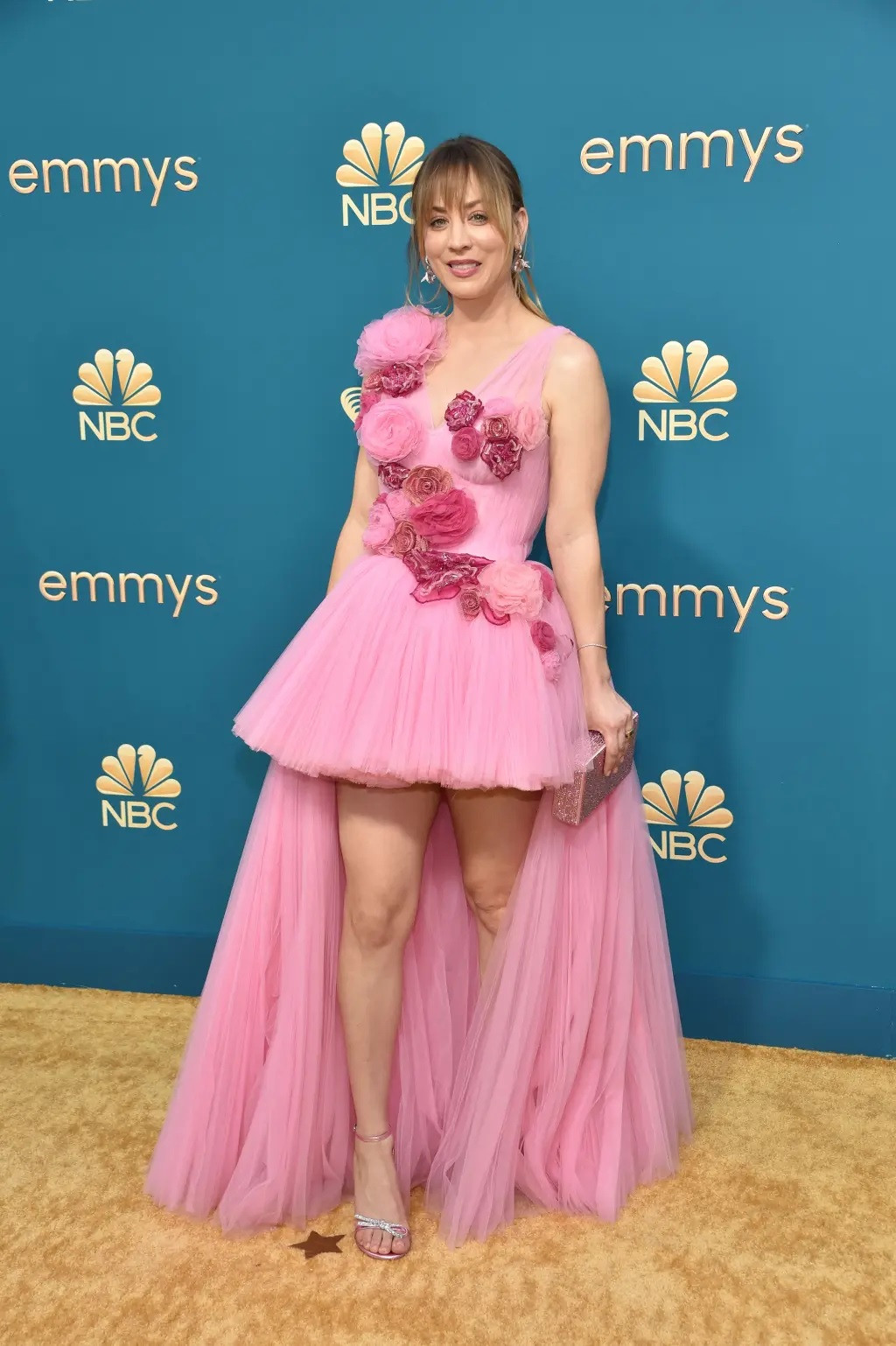 She arrived in a bubblegum pink tulle dress that looked straight out of Katy Perry's stage costume look. The Big Bang theory alum's bizarre getup was asymmetrical with an A-line skirt in the front and a floor-length tulle train. Plastered across the front were an array of fuchsia, hot pink and baby pink flowers – many of which were doused in glitter or decked out in sequins. Sorry to say but she really did not dress for her age!
4. Laura Linney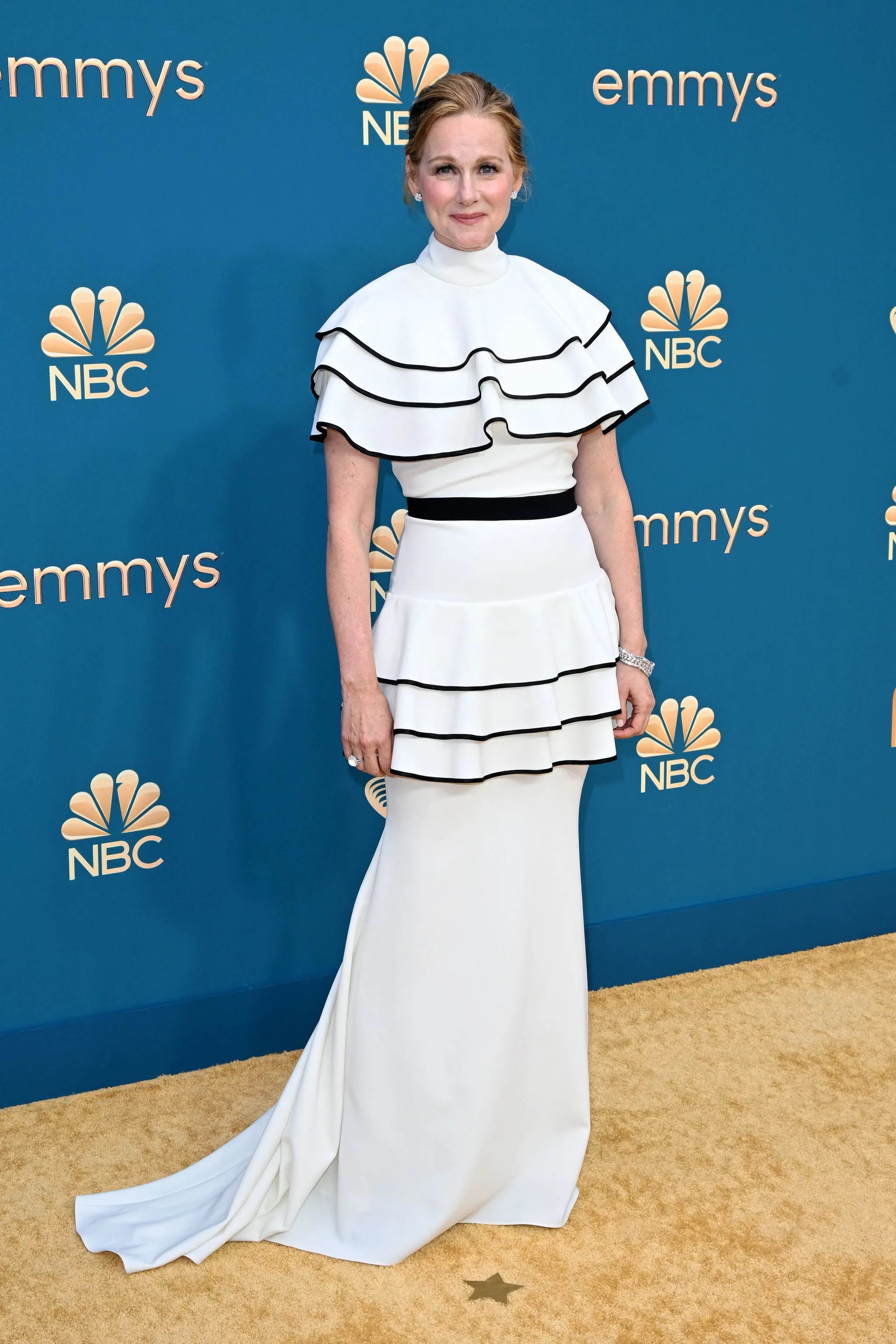 Linney was a big disappointment as she graced the event in an unflattering black and white gown.
There were layers of ruffles around the neck and on the hips that distorted her otherwise slender physique. Each layer of ruffling was lined with black piping that matched a bizarre two-dimensional belt high up on Linney's midsection. The only thing that worked for her was that messy updo and minimal diamond studs.
Have something to add to the story? Share it in the comments below.