No more weddings for me: Shahbaz Shigri
Actor Shahbaz Shigri has made headlines many times for the relationships he has been in—and even when he's out of them.
The Slackistan maker was previously married to a Pakistani-American actor Aisha Linnea Akhtar but things didn't work out between them. After their divorce, singer Aima Baig announced her engagement with Shigri in 2022, shortly after the former couple confirmed their relationship. Two years down the lane, the engagement is broken off and Baig has been accused of cheating on Shigri with filmmaker Qes Ahmed by a British supermodel Taloulah Mair.
After all of this, any sane person would swear off love for some time and so has Shigri. In his podcast, Nothing Happens Here with Shahzad Sheikh and musician Osama Karamat, the 34-year-old actor shared how he's lived multiple lifetimes in his relationships and is done for now.
In episode 5 of the podcast, Shigri's friends and co-hosts are seen talking about weddings in general when they stopped and said "let's not talk about weddings with Shigri." The actor added, "yes, please. I've had way too many of them. I don't want no more."
 
After a loud laugh by everyone, he continued, "I've been in and out of the wringer multiple times. In terms of relationships, I've lived multiple lifetimes, I think. I'm done for now guys, I'm done." The podcast came out a week prior to Baig's announcement of breaking up with Shigri, and the news of her alleged cheating.
On the other hand, while Baig is being accused of cheating, the fiasco has resulted in rumours of Shigri cheating on his ex-wife as well. To put them all to rest, ex-wife Linnea replied to a comment that asked her why she still has pictures with her ex-husband on her Instagram profile.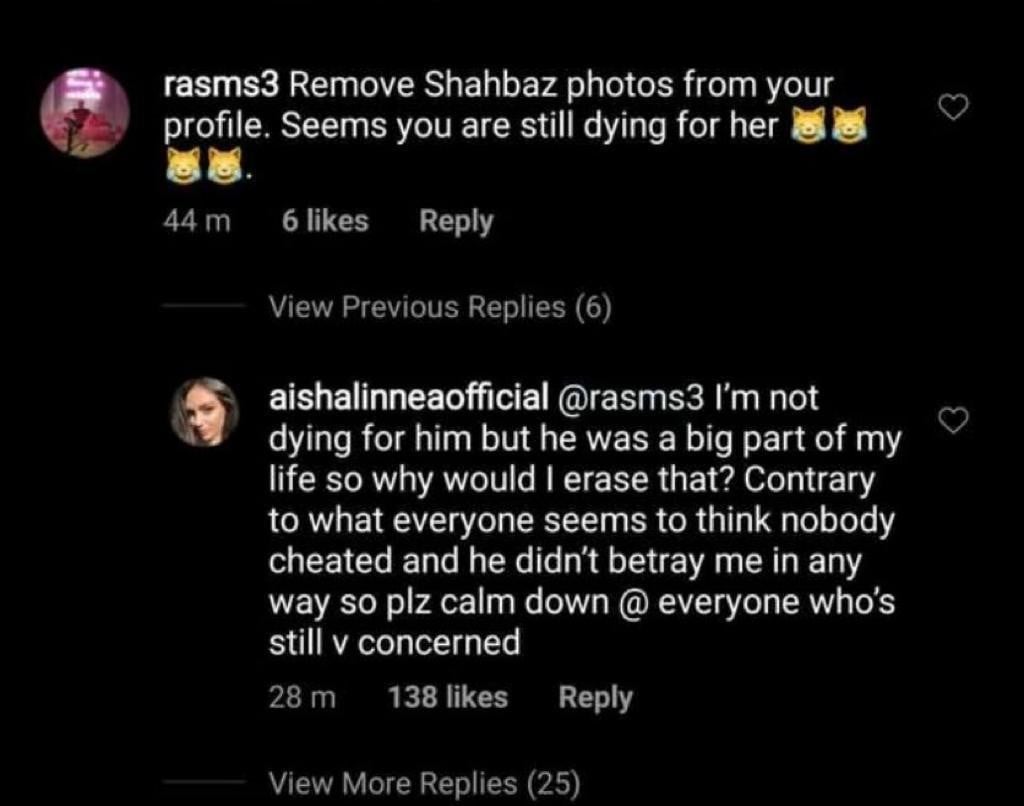 "I'm not dying for him but he was a big part of my life so why would I erase that? Contrary to what people seem to think, nobody cheated and he didn't betray me in any way so please calm down everyone," she wrote. 
Ahsan on artists being criticised for 'not helping flood victims'
Actor Ahsan Khan has something to say about the ongoing criticism on actors flying out of the country for an award show in time of a national emergency. 
"It goes without saying that all efforts in personal and professional capacity have been ongoing and shall continue towards the flood relief drive. A percentage of my hosting here will also go towards the same flood relief," the Udaari star shared in a statement. 
Start treating people's professions with the same respect that is bestowed upon other industries,We aren't questioning why a textile person or any other segment is going to work during the tragic situation in our country,yet actors are being asked why they are attending the event

— Ahsan Khan (@Ahsankhanuk) September 23, 2022
He added, "However, I want to clearly state that we need to understand and start treating people's professions with the same respect that is bestowed upon other industries. We aren't questioning why a textile person or any other segment is going to work during the tragic situation in our country, yet actors are being asked why they are attending the event. Think about that for a second. Don't judge a book by its cover."
Previously, several artists including Ushna Shah addressed the matter. "It's quite disconcerting to read the criticism for those of us who have come to Toronto to attend the award show. It is imperative that those affected by the floods know that they are not forgotten and we are working on the channels to raise funds through our industry," the Habs actor wrote in a descriptive note. 
She added, "I can speak for myself and I am sure many other artists when I say that we have contributed to the relief funds (privately) and continue to do so. We are also partaking in auctions and fundraisers here for the victims, tickets for which have been sold out. We are trying to do our best we can with the platforms we have. I look forward to returning to Pakistan and to continue my part, as the rehabilitation of our fellow citizens after their horrific disaster is our collective responsibility."
Have something to add to the story? Share it in the comments below. 
Johnny reportedly dating his attorney but it's not Camille
Johnny Depp has moved on and is now dating his lawyer, reported Page Six. But it's not Hollywood's favourite attorney, Camille Vasquez. The 59-year-old actor is said to be in a relationship with his UK libel case's London-based lawyer Joelle Rich.
The report further said that the lawyer is married but separated, and her divorce may not be finalised yet. Quoting a source, the outlet further said that Depp's and Rich's "chemistry is off the charts," adding, "It's serious between them. They are the real deal."
Rich was one of the lawyers who worked on the Pirates of the Caribbean actor's case against the UK newspaper after he sued the outlet for libel in 2018, but she was not part of the legal team who represented him in his defamation trial against ex-wife Amber Heard earlier this year. She was, however, present in the Virginia courtroom to show her "support" for the Oscar nominee.
"There was no professional obligation for her being there. It was personal," the source tells Us, adding that the duo "discreetly" met up in hotels during the early stages of their romance. The insider notes that Rich was married when she met the Hollywood star, but is now divorcing her husband. She and her estranged spouse share two children.
Earlier, the actor and his attorney, Vasquez (she was one of Depp's lead attorneys during his six-week defamation trial against Amber Heard) sparked dating rumours. However, Vasquez denied these rumours.
She said she cares deeply about her clients. "I guess it comes with the territory of being a woman just doing her job. It's disappointing that certain outlets kind of ran with it or said that my interactions with Johnny – who is a friend and I've known and represented for four-and-a-half years now – that my interactions in any way were inappropriate or unprofessional. That's disappointing to hear," she had said at that time.
Speaking to People, Vasquez revealed that she has a boyfriend and that they are very happy in their relationship. "It's unethical for a lawyer to date their client," she said, adding, "It's unfortunate and it's disappointing, but at the same time, it kind of comes with the territory. I can't say I was all that surprised."
Have something to add to the story? Share it in the comments below.
Shakira addresses breakup with Gerard

MADRID/
KARACHI:

Colombian superstar Shakira vowed to fight what she claimed were "false" accusations by Spanish authorities that she dodged 14.5 million euros ($14.31 million) in taxes, in her first public comments on a case that could see her sent to prison for up to eight years.
Shakira, 45, is facing trial in Spain accused of failing to pay taxes between 2012 and 2014, a period in which she said she was leading a "nomadic life" because of her work.
"I have to fight for what I believe because these are false accusations," the 'Hips don't lie' singer told Elle magazine in an interview published online in the United States on Wednesday and due to run in its October print edition. "I owe zero to them." 
The prosecutor's document, seen by Reuters, asserts that Shakira spent more than half of each year in Spain between 2012 and 2014, and in May 2012 bought a family home in Barcelona. In July last year, a Spanish judge said he had seen "sufficient evidence" for Shakira to face trial. A second judge rejected her appeal against the decision in May.
Shakira, who in July rejected a deal with the prosecutor to settle the case, says the authorities only came after her "with their eyes on the prize" when they found out she was dating FC Barcelona soccer player Gerard Pique, who is Spanish. "While Gerard and I were dating, I was on a world tour. I spent more than 240 days outside of Spain, so there was no way I qualified as a resident," she said.
"The Spanish tax authorities saw that I was dating a Spanish citizen and started to salivate. It's clear they wanted to go after that money no matter what," the singer claimed.
Shakira added that she had already paid what the Spanish tax office said she owed before they filed a lawsuit. She said she was confident that she had behaved correctly and transparently from the beginning, suggesting the Spanish authorities "resorted to a salacious press campaign" to damage her reputation.
The combination of her recent separation from Pique, a custody battle for their two children, the illness of her father and "fighting on different fronts" meant she was facing "probably the darkest hour of my life," the singer said.
On split with Gerard
The singer has now spoken up and shared how their children are coping with the breakup. "I've remained quiet and just tried to process it all. And yeah, it's hard to talk about it, especially because I'm still going through it, and because I'm in the public eye and our separation is not like a regular separation. And so it's been tough not only for me but also for my kids. Incredibly difficult," E! News quoted Shakira as saying.
"I have paparazzi camping outside, in front of my house, 24/7. And there's not a place where I can hide from them with my kids, except for my own house. You know, we can't take a walk in the park like a regular family or go have an ice cream or do any activity without the paparazzi following us. So it's hard," she added.
However, the Hips Don't Lie crooner is doing her best to shield her kids from the breakup and the media attention. "I try to do it and to protect them because that's my number one mission in life. But then they hear things in school from their friends or they come across some disagreeable, unpleasant news online, and it just affects them, you know?" Shakira continued.
The breakup, however, is still hard to digest for Shakira. "Sometimes, I still feel like this is all a bad dream and that I'm going to wake up at some point." Talking about her relationship with the soccer star, she said, "It's real and what's also real is the disappointment to see something as sacred and as special as I thought was the relationship I had with my kids' father and see that turned into something vulgarised and cheapened by the media."
The couple had been together for more than 11 years, having started dating in 2010. The pair has two children together. They first met at the 2010 FIFA World Cup in South Africa, when Gerard was featured in the music video for Shakira's Waka Waka (This Time for Africa) – the tournament's official song.
Have something to add to the story? Share it in the comments below.