Protests held in UK, EU against India's illegal actions in IIOJK

LONDON:

Europe and the United Kingdom (UK) on Friday were buzzing with slogans for the freedom of Kashmir from illegal Indian occupation. Several rallies, demonstrations and conferences organised by the Tehreek-e-Kashmir (TeK) UK were held to mark "Kashmir Exploitation Day" in view of India's illegal and unilateral actions taken on August 5, 2019.
Besides, digital campaigns were held in various cities of the UK to highlight war crimes, and crimes against humanity inflicted by New Delhi in Indian Illegally Occupied Jammu and Kashmir (IIOJK).
Tehreek-e-Kashmir UK President Fahim Kayani said that Kashmir rallies and conferences were held in Oslo, Birmingham, Glasgow, London, Copenhagen, Nottingham, Barcelona and Brescia on the day of the exploitation of Kashmir.
"Kashmiris will never accept dismemberment of IIOJK," Kayani said, "That is why Kashmiris and their allies are out on roads demonstrating against India in Europe and the UK."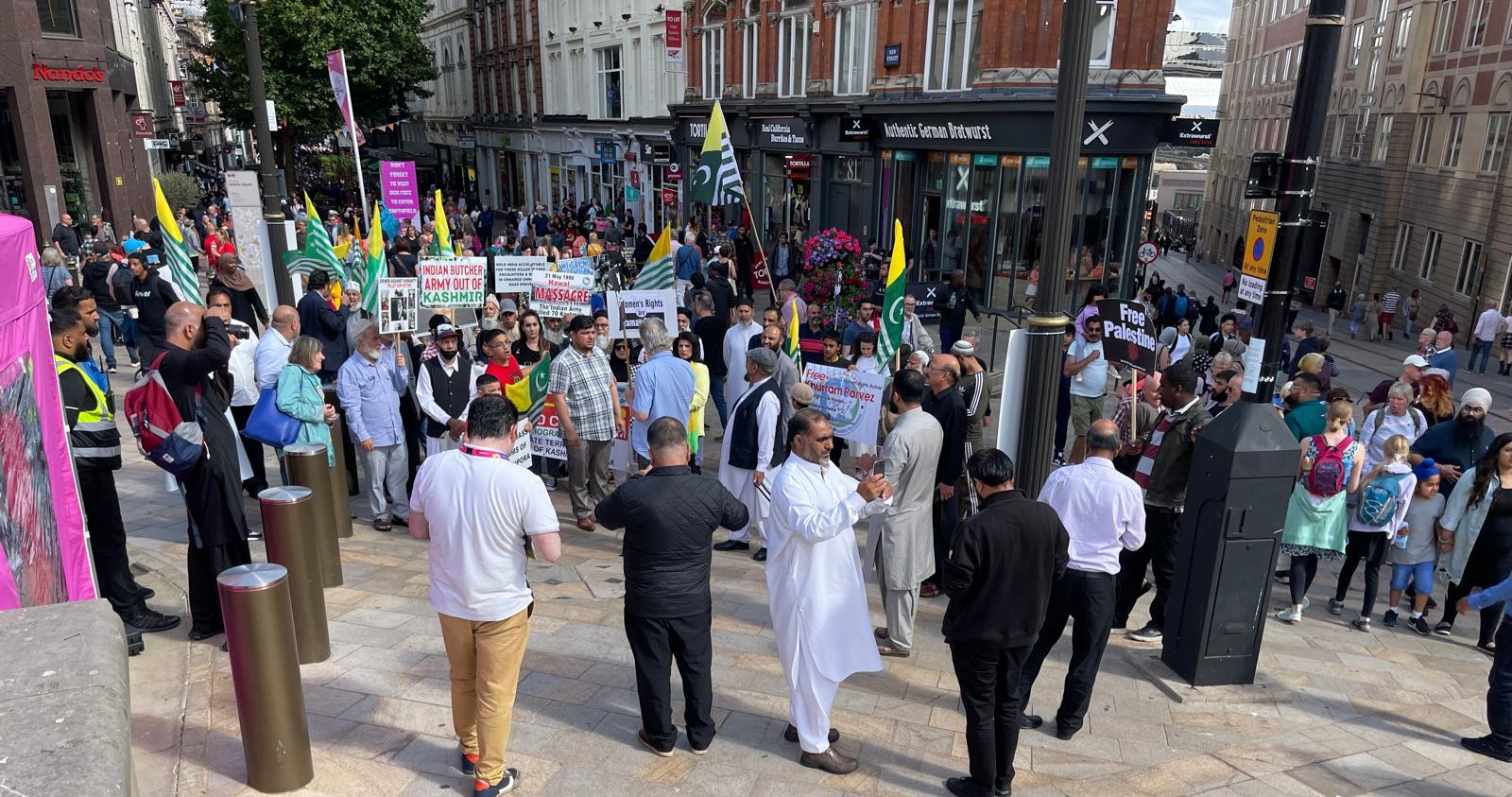 He said that India is an illegal occupier and land grabber in IIOJK and "it is just a matter of time that international community will hold New Delhi accountable for its inhuman actions."
India, on August 5, 2019, re-annexed Kashmir and removed the so-called special provisions under Articles 370 and 35A of its constitution which applied to IIOJK.
The Indian military regime also divided IIOJK into two zones with direct control from the offices of fascist Narendra Modi.
Read more: Youm-e-Istehsal Kashmir: PM condemns illegal Indian military siege of IIOJK
One million Indian forces are deployed in IIOJK which have been accused of using rape as a weapon of war, mass arbitrary arrests, custodial killings, enforced disappearances, torture and killings with no accountability.
"Kashmiris have never accepted these so-called special provisions… Kashmiris rejected India in 1947, 1965, 1971, 1987, 1990, 2004, 2008, 2010, 2016 and 2022," Kayani said.
Urging the UN and powerful countries including the US, the UK and the European Union to take notice of India's belligerent actions in Kashmir, Kayani said: "Diaspora salutes resilience of Kashmiris in IIOJK for showing steadfastness and courage to fight back more than one million occupying Indian forces."
Muhammad Ghalib, president Tehreek-e-Kashmir Europe, said that time has come to push forward the freedom movement in IIOJK.
Read: Kashmiriat under assault
"There is an urgent need to formalise joint strategy among the Kashmiri diaspora groups in consultation with Kashmiri resistance leadership to fight Indian inhuman actions," he said.
After imposing graveyard silence in IIOJK, Hanif Raja MBE President Tehreek-e-Kashmir Scotland said, "India was now going after Kashmiris and their allies in the diaspora."
"We will fail attempts of India to mislead the international community by holding farce seminars and conferences to show India in good light," he said. "The truth is that India is an illegitimate and coward military occupier in Kashmir and Kashmiris will force it out of their homeland."
Referring to political prisoners of IIOJK, Shah Hussain, who leads Tehreek-e-Kashmir in Norway, said that Kashmiris need to sit and formulate a legal case against India to free the political prisoners.
"There is no weight in fake cases lodged by India against the Kashmiris resistance leadership," he said. "These cases cannot withstand international scrutiny and Kashmiris in diaspora along with their allies must take legal opinion and file cases against India in their respective countries."
"We have to build and then sustain pressure on India and that is possible after joint efforts," he said.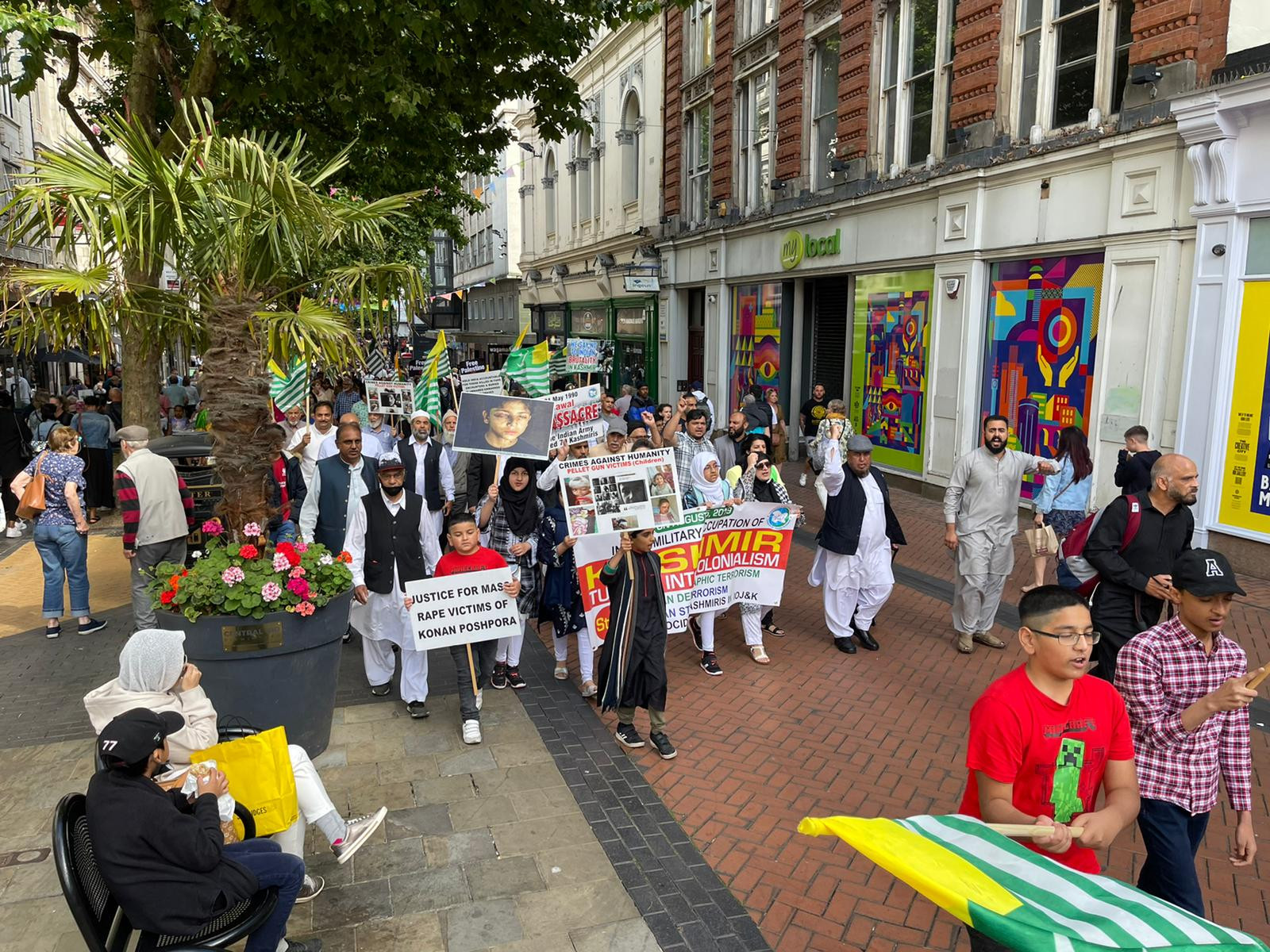 A delegation of Tehreek-e-Kashmir Spain led by Shafiq Tabasam also met Catalonian members of parliament.
Tabasam explained to Catalonian lawmakers the case of Kashmir for the right to self-determination. "Kashmiris, come what may, will fight to achieve the right to determine their future," he said.
"The only impediment to using this right as given by the UN to Kashmiris is arrogance and blockade imposed by India," Tabasam said. "The European countries must stop looking at India with a soft image; India is a rogue nation which has no respect for international law."
The Tehreek-e-Kashmir leaders in Europe also paid tributes to Kashmiri martyrs, resistance activists and political prisoners.
"Shaheed Syed Ali Geelani and Shaheed Ashraf Sehrai are our role models and diaspora groups must highlight their role in the freedom struggle," they added.
Jirga formed to talk to Mir Ali protesters

MIRANSHAH:

Prime Minister Shehbaz Sharif on Thursday formed a jirga to hold talks with the demonstrators in Mir Ali area protesting for the last four weeks against the killing of members of Dawar and Wazir tribes, after his meeting with National Democratic Movement chief MNA Moshin Dawar, who informed the premier about the gravity of the situation as well as the overall scenario in his constituency of North Waziristan.
The 16-member jirga, announced by Defence Minister Khawaja, would comprise officials from the multi-party alliance, the Pakistan Democratic Movement (PDM). The jirga would be headed by Leader of the Opposition in Khyber-Pakhtunkhwa Assembly Akram Khan Durrani.
A declaration issued under the signature of defence minister read that leading members of all political parties (except the PTI) would hold a discussion for peace with the elders of North Waziristan. First, the members of the jirga would hold an important meeting at Durrani's residence in Bannu on August 12 at 10am, after which they will go to Mir Ali in North Waziristan to meet the participants of the sit-in and find a permanent and lasting solution to their problems.
It added that members of all political parties and various organisations at the provincial level would also participate in the jirga so that a proper and long-term solution to the demands of the people and elders of North Waziristan could be found.
For this purpose, the names of prominent leaders of political parties including Akram Khan Durrani and Maulana Attaur Rahman of the JUI-F; Amir Maqam and Murtaza Javed Abbasi of the PML-N, Aimal Wali Kkhanof the ANP; Najamuddin Khan and Faisal Karim Kundi of the PPP; Sikandar Khan Sherpao of the Qaumi Watan Party; Abdullah Nangyal of the NDM; Advocate Haider Khan of PkMAP; Mukhtiar Bacha of the National Party ( Bizenjo Group); Fayaz Khan of the JUI-Pakistan Noorani Group); Dr Zakir Shah of the Ahle Hadees Sajid Mir Group; Maulana Ataul Haque Darwish of the JUI-Pakistan; and Senator Mushtaq Ahmad Khan and Professor Muhammad Ibrahim Khan of the Jamaat-e-Islami are included.
However, no reaction has come from Atmanzai tribes in this regard because mobile signal and internet have been suspended in the area since a day earlier.
It may be recalled that for the past four weeks, the Atmanzai tribes have started a protest in the area for peace and against targeted killings, in which all the connecting roads and markets have been closed, due to which life has practically been paralysed.
Pakistan slams India over 'ludicrous remarks' against OIC
Islamabad on Sunday categorically rejected New Delhi's "ludicrous comments and fallacious claims," criticising the Organisation of Islamic Cooperation (OIC) for denouncing illegal actions in Indian Illegally Occupied Jammu and Kashmir (IIOJK).
Reacting to the comments made by the spokesperson of the Indian Ministry of External Affairs (MEA), the Foreign Office in a statement said, "India's hubris in this regard is deplorable".
The statement added that OIC is the largest multilateral forum of Islamic countries representing more than 1.7 billion Muslims and has always been vocal in support of the legitimate rights of the Kashmiri people, who have suffered unspeakably from India's over seven decades long illegal occupation and unabated oppression.
The OIC Secretariat, in a statement on August 5, reiterated its stance over India's illegal and unilateral actions of August 5, 2019 in IIOJK.
calls for the respect of their fundamental #freedoms and basic #HumanRights and for the reversal of all illegal and unilateral measures taken on or after 5 August 2019.

— OIC (@OIC_OCI) August 4, 2022
.The Indian foreign ministry spokesperson said on Friday the OIC's statement on IIOJK "reeks of bigotry".
"It is indeed astounding to see an unabashed practitioner of 'Hindutva' to accuse others of 'bigotry' or 'communal agenda.' Equally appalling is the audacity of an established serial violator of human rights and purveyor of state-terrorism, pointing accusing fingers towards others," the FO communiqué said.
Also read: Nation observes Youm-e-Istehsal in solidarity with Kashmiris
Jammu and Kashmir was never a part of India, and never will be. It is an internationally recognised "disputed" territory between Pakistan and India that has been under forcible and illegal Indian occupation since 1947. The dispute remains on the agenda of the United Nations Security Council for nearly 75 years. The relevant UNSC resolutions pledge to the Kashmiris their inalienable right to self-determination, to be exercised through a free and impartial plebiscite under the auspices of the United Nations, it said.
While perpetuating its tyranny and injustice, the FO said India will not succeed in misleading the international community by claiming "socio-economic growth and development" in the Indian Illegally Occupied Jammu and Kashmir (IIOJK). "No amount of repetition would turn a falsehood into truth."
In the interest of justice as well as durable peace and security in South Asia, the statement called upon India to honour its commitment to the Kashmiris and to the world community by faithfully implementing the UNSC resolutions on Jammu and Kashmir dispute.
Political leaders in AJK observe 'Youm-e-Istehsal'

MUZAFFARABAD:

Youm-e-Istehsal was observed on Friday, across Azad Jammu and Kashmir (AJK) with the pledge to continue the support to the people of Indian Illegally Occupied Jammu and Kashmir (IIOJK) in their fight for seeking rights of self-determination.
In this regard, a rally was led by AJK's Prime Minister Sardar Tanveer Ilyas, Minister for Local Government Khawaja Farooq and Former Premier Farooq Haider from District Complex to United Nations Military Observers Group for India and Pakistan (UNMOGIP) as a protest against the re-annexation of IIOJK with India on August 5, 2019.
"Dividing IIOJK into two union territories while merging them into India at gunpoint and under lockdown was the violation of the UN charter and its resolutions on IIOJK but the government in AJK will continue to raise their voices against the human rights abuses committed by the Indian Army in IIOJK at the international level," said the premier.
In another event to condemn the act, President of Pakistan Peoples' Party AJK Chaudhry Muhammad Yaseen said, "Modi's fascist regime in New Delhi forcibly merged IIOJK with its union and dozens of measures have been taken during the last three years to convert Muslim majority into a minority. More than 4 million state subject certificates have already been issued to extremist Hindus".
"India must understand that IIOJK is an international dispute which can only be resolved as per UN resolutions through tripartite talks between Kashmiris, Pakistan and India," he added
Read: Youm-e–Istehsal observed in several world capitals
Whereas in a statement issued by Jammu and Kashmir Salvation Movement (JKSM) Chairman Altaf Ahmed Bhat, he urged Kashmiris across the globe to raise their voice against IIOJK oppression and aimed to carry out their rightful struggle till complete freedom from Indian illegal occupation.
"On this day Hindu extremist backed Modi government and revoked the special status of IIOJK while violating the spirit of United Nations resolutions on the vexed Kashmir issue," Bhat said recalling August 5.
"August 5, should be observed every year as an "Exploitation Day," and Kashmiri diaspora should protest outside Indian embassies across the globe every year as they did yesterday."
"Kashmiris will never relinquish their rightful struggle for their rights. Scrapping India's only Muslim-majority state with its autonomy reflects the real face of the Hindu extremist Modi regime. It was very unfortunate that the Muslim majority state of Jammu and Kashmir was also split into two federally administered territories. On this day Indian authorities locked the IIOJk down, detaining thousands of people that include dozens of top politicians, imposing restrictions on public movement and enforced a communications blackout for months."
Bhat added that the "pro-freedom leadership in IIOJK has been in disarray since August 5 when hundreds of leaders and activists were detained and jailed in different Indian cities. Despite these inhuman tactics of India, the people of IIOJK will never compromise on their freedom struggle."
Prime Minister Shehbaz Sharif also condemned India's use of "unbridled force with complete impunity" in the Indian Illegally Occupied Jammu and Kashmir (IIOJK) as the country observed the third anniversary of unilateral measures taken by New Delhi to alter the status of the disputed territory.
Meanwhile, Foreign Minister Bilawal Bhutto Zardari has addressed a letter to the Secretary-General of the Organization of Islamic Cooperation (OIC) Hissein Brahim Taha, apprising him about the dire situation in the Indian Illegally Occupied Jammu and Kashmir (IIOJK).