Bags are not only an accessory but a necessity. They not only beautify one's fashion sense but also helps in accommodating necessary everyday items. Bamboo bags have once again become all the rage. Their neutral colour allows the bags to match pretty much anything, and their bold-but-simple style means you can opt for subtle and classic accessories that you can pair with anything. Bamboo has a way of evoking light, bright sun-filled days in the warmer seasons in a fashion-forward way. Bamboo handbags have also been a summer staple for a long time. These bags have truly been our go-to for sprucing up a cute summer look.
We've rounded up a list of bamboo bags to make an awesome style statement this summer. To add a cherry to the top, we have also listed looks you can try to pull off along some of the summer fashion bags listed below!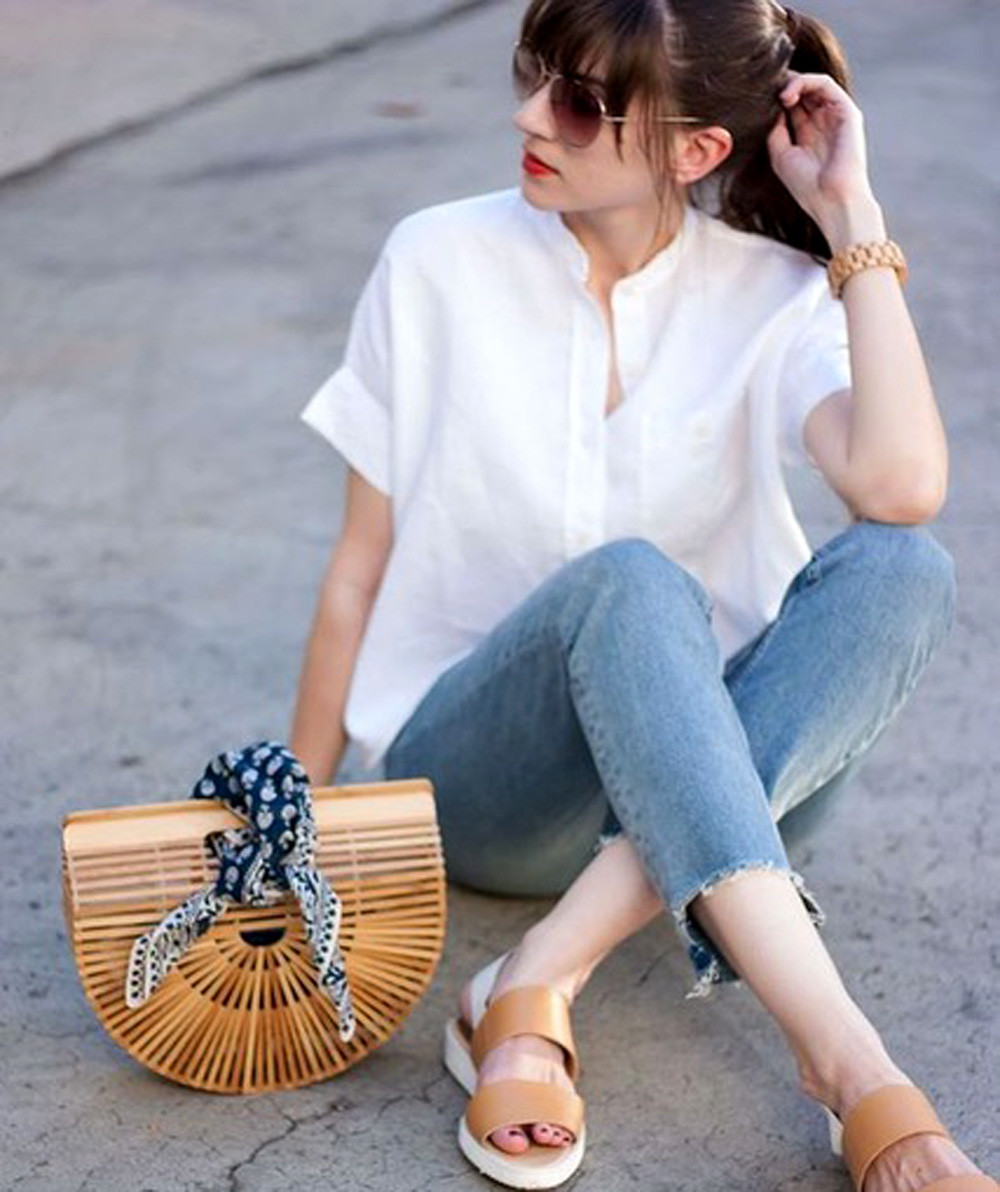 With Lace Top and Jeans
Get the ultimate holiday look by pairing your classic bamboo bag with a lacy top and faded jeans. This casual-chic look is also perfect for brunch dates, lunches, and weekends out. They can also be paired with wide-legged striped pants and the looks will not only be comfortable but super stylish. To complete the look add some statement earrings, oversized sunglasses, and some metallic mules to tie the whole thing together.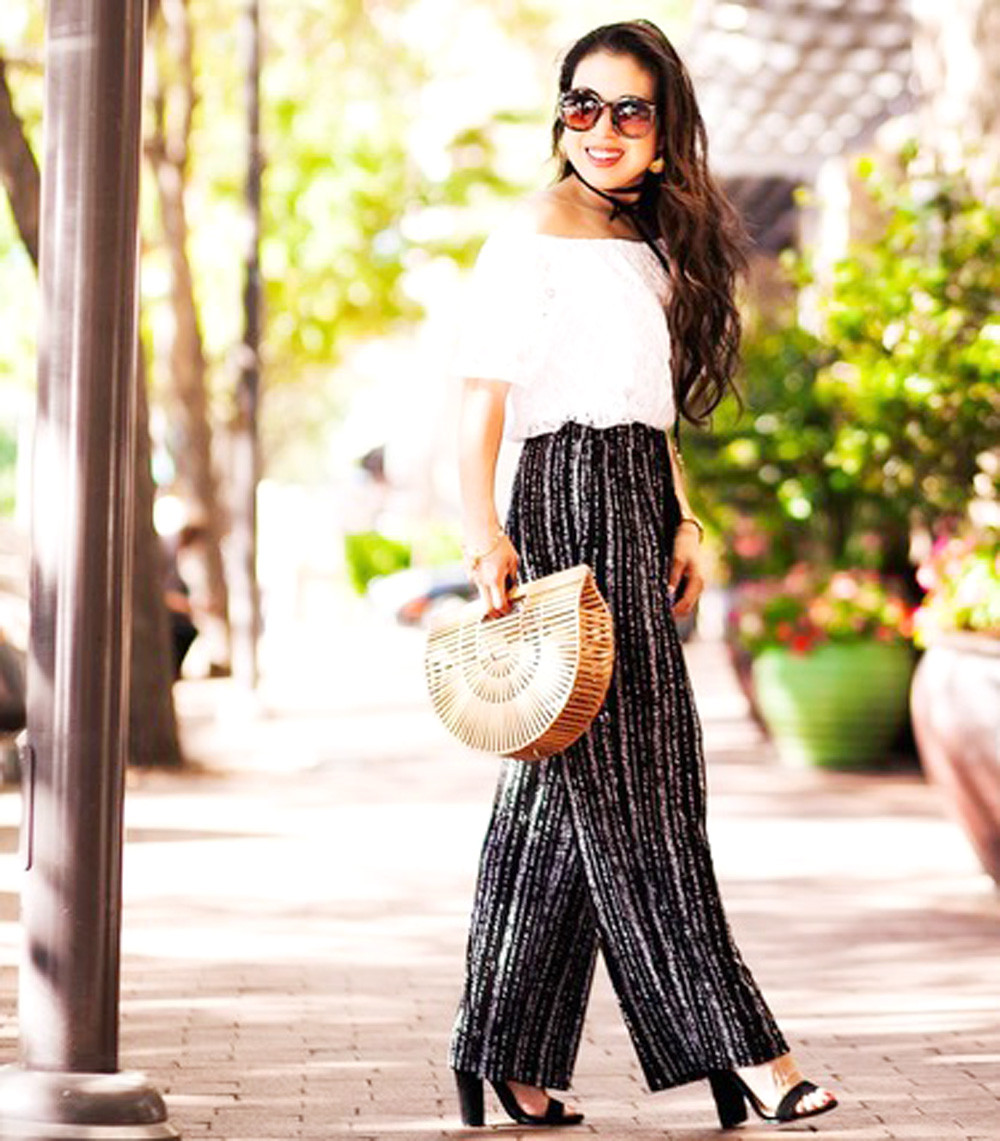 Get that summer dress on
There are quite a lot of options out there in the bamboo bag realm. Check out this version that features an oversized beaded strap and a smaller design and shape than the typical birdcage style. We love to pair this bag with a cheerful spring look made up of a floral dress and nude heels. Plus some bold white sunnies that will tie the whole look together. You can channel this look while having a day out with friends or just chilling with the family on a beach.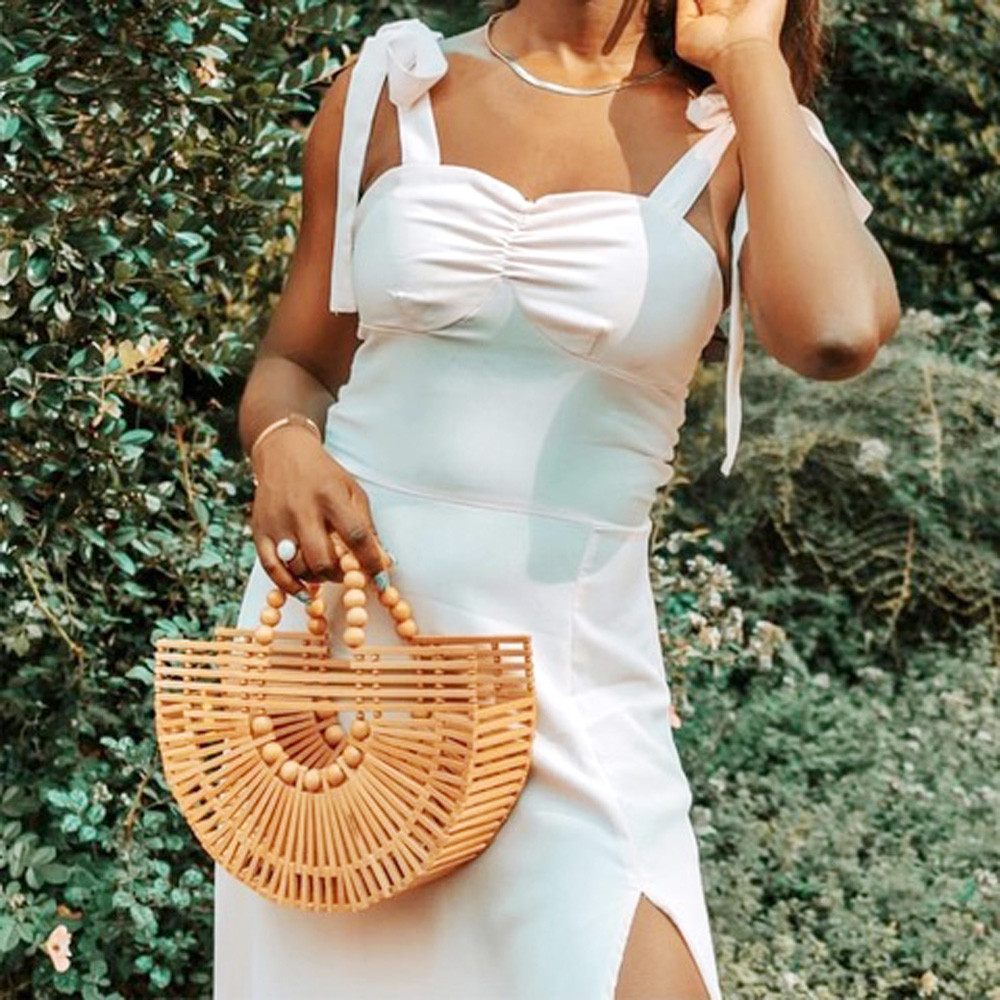 Wear with strappy heels and statement earrings
Wearing bamboo bags for work may be difficult to style, but this black and white match makes it easy for you to nail a summery yet elegant allure for a never to fail office outfit. Add statement earrings to upgrade the look further. Black strappy heels are a basic piece that can't be missed in your wardrobe to give any look a more elegant expensive touch.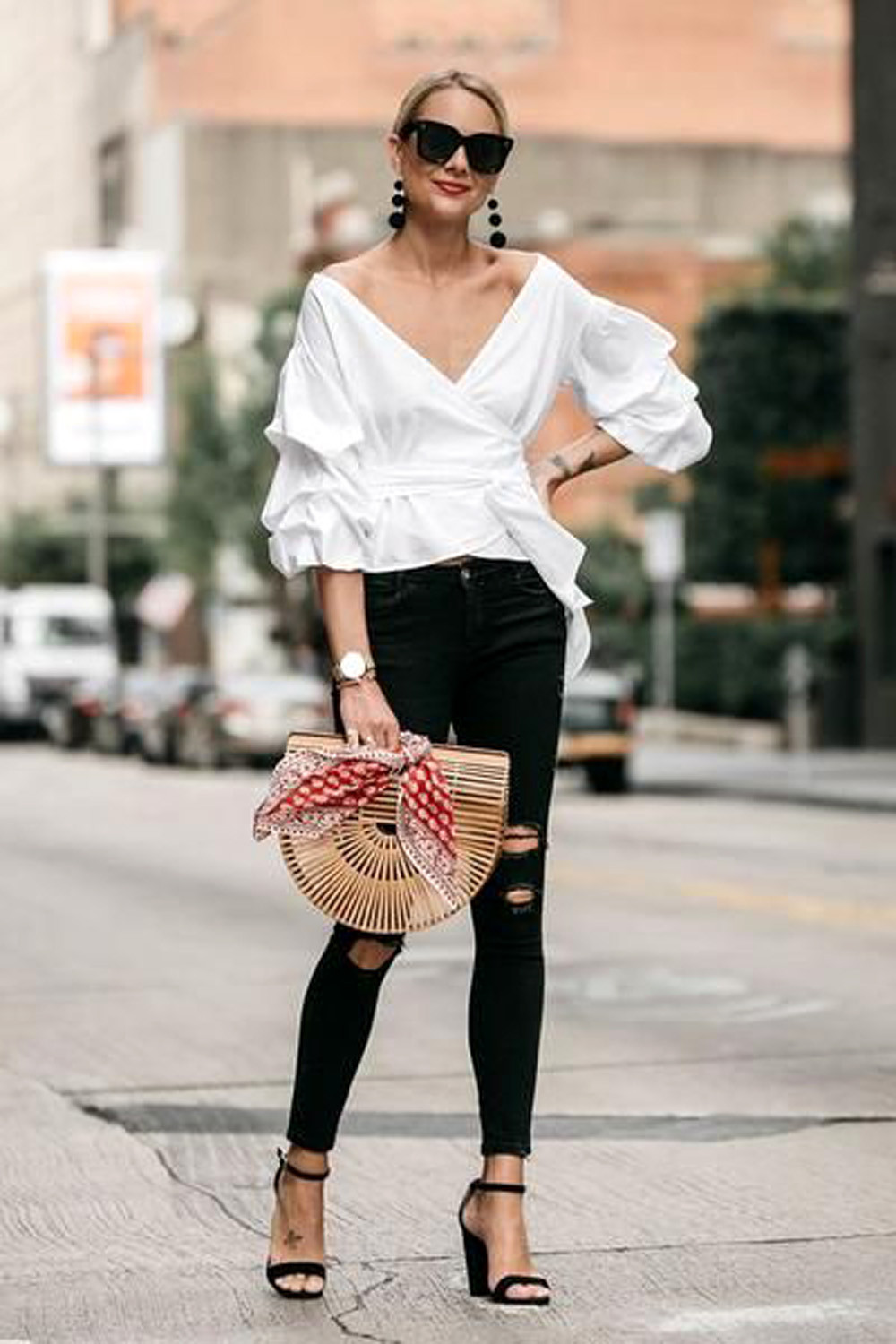 With a Jumpsuit
This outfit can work in both ways, you can wear it for work with heels to give a more grown-up elegant expensive look or you can wear it with flats and sneakers for a more casual guise to run around the place feeling breezy and comfy in your jumpsuits. We call this look the ultimate for a perfect summer tropical feel. It also works as a stylish way to dress up on your next vacation without feeling like you are going way too far.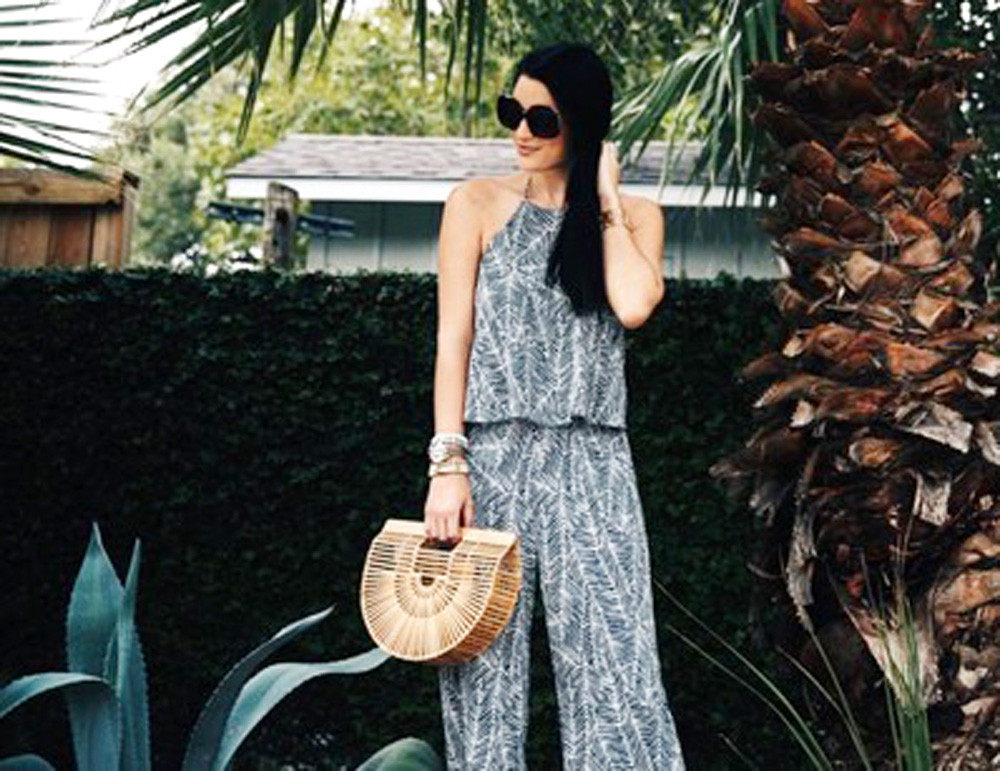 White cotton tee and sandals
If your everyday outfit needs a little extra something, add some statement earrings and a bamboo clutch. And a white cotton shirt is just another basic piece that you can match easily with a bamboo clutch over your favourite jeans and you're ready to go. It's simple but very stylish. Street sandals are a great way to complete the look. But if you want to up the style quotient, you can add a pair of heels and some round sunglasses. This everyday ensemble takes minutes to put together but you will feel like a million bucks all day long.
Amna Baber shares nuggets of wisdom for aspiring models
Model Amna Baber, known for her striking cover shots and effortless looks, has secured a spot for herself in the local modelling sphere. Baber, who is based in Lahore, officially began her modelling career in 2010 after she was spotted by make-up artist and photographer Khawar Riaz for Pakistan Fashion Design Council (PFDC) in Karachi. 
Since then, her career has only been going up, from big-name collaborations such as those with Ali Xeeshan and Ather Shahzad to winning the Lux Style Awards (LSA) 2018 for the 'Best Model – Female' category. However, Baber has never been one to shy away from sharing nuggets of wisdom she has gathered from years of experience. Often seen connecting with her followers on Instagram, Baber hosted another Q&A session on the social media platform recently. 
When asked how she began her modelling journey, Baber shared that she has always wanted to be a model and with a combination of good luck, attractive looks, and four years of struggle, she was able to achieve that dream. In an earlier interview with The Express Tribune, the actor had elaborated on the same, "I remember when I was 14 years old, I was told I could be a model. I was with my aunt while she was getting her make-up done when Shahzad Bhai [of Ather-Shahzad] came up to me and said I had features that were perfect for a model."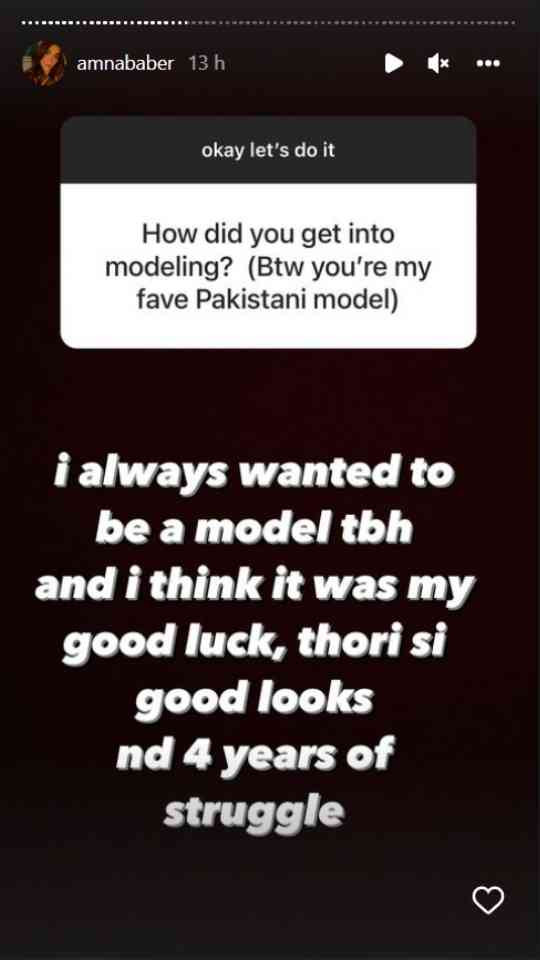 Many also asked Baber for advice about kick-starting modelling in a conservation society like Pakistan's, provided the occupation is needlessly criticised. Baber told her fans never to lose confidence when venturing into the field. However, while being confident is good, she also warned that "overconfidence always sinks the ship."
When a user asked her about the need to network – Baber pointed out that Instagram is an essential tool in the modelling sphere today, a platform that wasn't used as much when she was starting out. With the ever-growing popularity of Instagram, beginning a career can be as easy as making a public profile and having outstanding pictures to catch the attention of relevant people.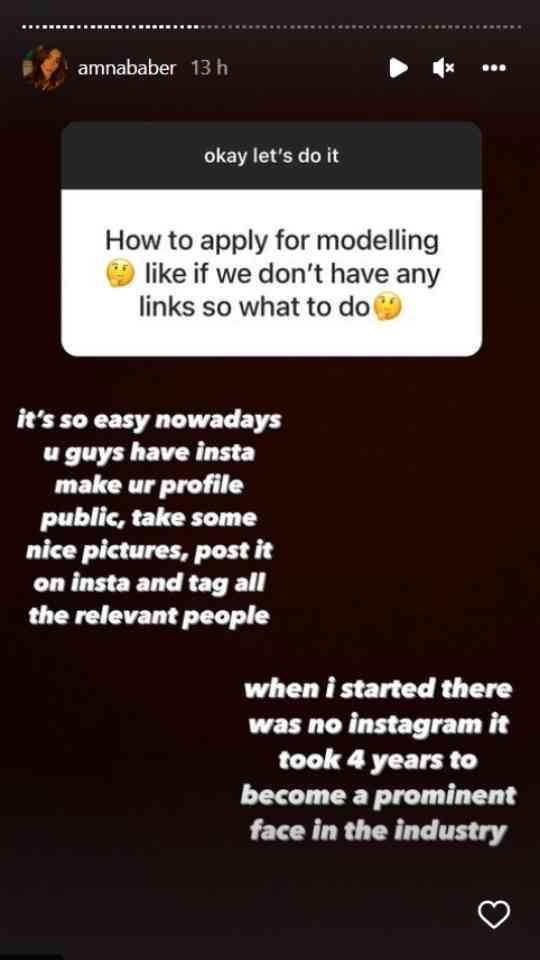 And when a follower asked what she thinks about models who have stepped into modelling through social media, Baber only had words of support and encouragement. "I think that's amazing. You know they are earning their own money at a very young age. It is very impressive," the model gushed. However, ending her Q&A with a reality check, she wrote, "Becoming a model has become really easy now, but how to maintain your career is becoming difficult, that's what I think."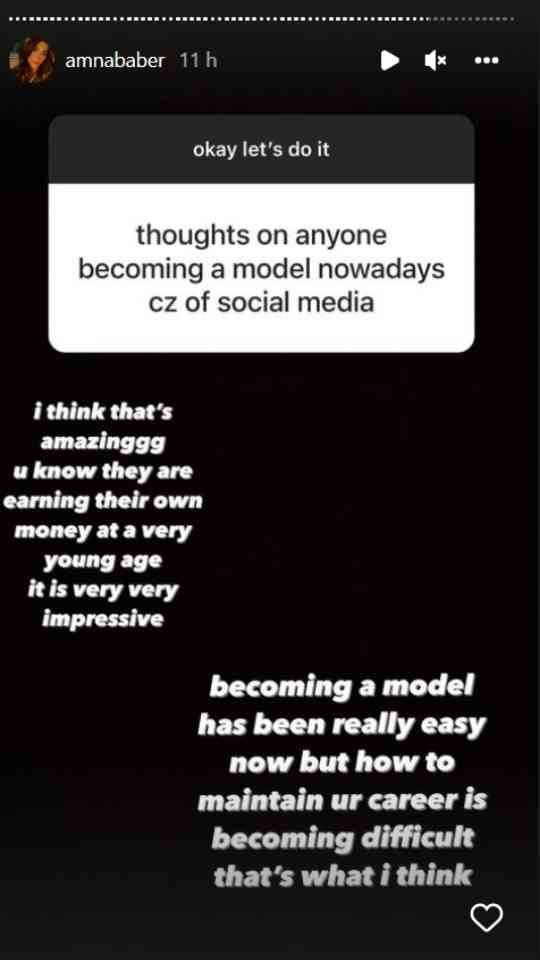 Have something to add to the story? Share it in the comments below.
When khudkushi became her only freedom
'Khudkushi,' they murmured, afraid not to say it out too loud. A silence spread, full of fear and anticipation.
The sky was a pool of black ink, dusted with stars at midnight. Arsh looked out from the window — she saw many little streets sprawled out below. She had only known these streets from inside the walls of her room. She had never walked on them. She had never been under the open sky. She looked at these streets longingly. To her, these streets and everything else of the outside world was a distant dream.
Arsh was thinking about him. He came again tonight. Her caramel skin flushed bright pink as he folded her into his arms. Her heart fluttered as his fingertips grazed her bare skin. She had never felt so close to a man before. Over the years, many men held her, touched her, felt her — but he was different from all the others. She fell in love with him.
She waited for him each night. She longed for him, as any lover would. On the nights he didn't come, she was restless. She waited for him till she saw him next, till he told her how beautiful she was.
As she stood by the window and watched darkness engulf the sky, she decided she'd tell him what she felt for him. Maybe he'd take her away somewhere far. Maybe he'd relieve her of this life.
Overhead, a star blinked in the dark sky, as if telling her it was time.
---
The morning sun filled the brothel. It was bright inside. Arsh slipped into plain white clothes and went downstairs.
The morning is always bright. It's the night that's dark. It's always the night that's dark. 
"Arsh!" Farnaz called, with a cigarette clenched in the corner of her mouth. "You look happy! I've never seen a bigger smile on your face."

"I'm going away," Arsh said in low voice, so that nobody else could hear.
Farnaz laughed. But then her eyes were suddenly wide with concern, and her skin shone pale under the gleam of sunlight.
"You know you can't go away," Farnaz said quietly.
Arsh smiled in reply and bustled away.
The rest of the day, she was tangled in her thoughts. She didn't even know his name but she knew he was the one who'd save her. The world glittered with promise.
---
"Take me away!" Arsh whispered into his ear.
There was a steely glint in his eyes.
"Please take me away!" Arsh's voice crackled at the edges.
He slapped her so hard her teeth rattled.
"You're a whore," he spat.
Arsh swallowed everything else that she had to say. The words dried up in her throat.
---
It was near dawn but Arsh was wide awake. She looked into the mirror, her dark eyes sunken in an ashen face, stared back at her. Her lips were stained in a dark, blood-like red. Her hair, black and velvety like the sky at midnight, carelessly tumbled down her back. Her angarkha, heavily embroidered in gold and silver threads, danced around her when she moved. 'A whore,' she thought.
She felt sparks of resentment cascading in her as she looked at herself. She felt angry. But then her anger melted and she started crying. And as a tear caught in her lip, she realised her lipstick was smudged at the corners.
His words filled her head. They were sharp, piercing—they cut through her like knives. Even after he left, the word 'whore' twisted inside her. It crushed her. It tinted her entire existence. It was a small word but it encompassed a bitter world — a whore's world.
Arsh had endured years of abuse. There were different men in her bed each night. They treated her like an object. They used her and then discarded her. She was perceived as an unthinking, unfeeling being. Her existence only sparkled in the dark hours of the night. They forgot she was human too.
She looked at the faded sky from the window. She spread out her hand towards the sky, trying to reach for it. It was close but far away. Maybe just like the man who she thought would save her.
---
Khudkushi (suicide). The word echoed against the big, bare walls of the brothel. Its weight settled on all women who lived inside. It grew heavier and heavier, thicker and thicker, folding them in, needling them all over. It hung in the air, sharp and poisonous. 'Khudkushi,' they murmured in small voices, afraid not to say it out too loud. They didn't want anyone else to hear. A silence spread in the brothel, full of fear and anticipation. It was suddenly dark inside, and empty despite the people. Outside, the day shifted from morning to night. And the air smelled of earth and ash and rain. And faintly of death.
Arsh took away her life. She cut her wrists and bled to death. For her, death wasn't just an end—it held meaning. It meant freedom. It meant floating somewhere far, untethered. It meant relief from a corseted existence.
Khudkushi became Arsh's freedom. She finally fled from a life she did not want to live.
India's 'Operation Isolation' and the soft power of sports
Govts are now using alternative modes of diplomacy, sports included, to achieve political goals and shaping images.
"Our message is stronger than ever. Please stop the fighting. Please stop the killing. Please drop your guns." Juan Antonio Samaranch, President International Olympic Committee speaking at the Winter Olympics, 1994.
The sports arena has often been used in modern-day diplomacy to advocate for peace, but it has also been used to aggravate existing conflict. George Orwell wrote in The Sporting Spirit (1945) that sports is "war, minus the shooting" and has the potential to bring out the worst characteristics of nationalism. How that is controlled, or even amplified, is in the hands of those who hold the political controls. 
In the days following the Pulwama incident, tensions once again began to escalate between Pakistan and India. While India's very first reaction was the imposition of a heavy economic sanction, many of the responses which followed came in the form of sports sanctions, primarily impacting something very close to the hearts of people on both sides: cricket.
The fourth edition of the Pakistan Super League (PSL) became the primary target of the increasing hostility and vitriol. Prominent Indian-owned media companies and broadcasters, including IMG Reliance, D Sports and CricBuzz, terminated their contracts and coverage of the tournament, leading to a virtual PSL blackout in India. The Board of Control for Cricket in India (BCCI) also came under extraordinary pressure from prominent Indian sporting personalities, media outlets and ordinary citizens, to boycott the upcoming Pakistan-India match at the cricket World Cup (June 2019).
As part of the effort, BCCI should also make sure any international player who participated in PSL, will not be able to in IPL. In fact, India should ask fellow members to throw Pakistan out of the ICC as a terrorist state. https://t.co/hP8JbY0l5C

— Yusuf Unjhawala 🇮🇳 (@YusufDFI) February 18, 2019
Agree 100%. Sports boycotts against illicit, racist or brutal regimes have historical precedents. Forfeit #WorldCup match in Birmingham on June 16 against Pak as a mark of respect to our martyrs. @sachin_rt & #SunilGavadkar are dead wrong to put points above blood #Pulwama https://t.co/CED3l5DAiD

— Minhaz Merchant (@MinhazMerchant) February 22, 2019
Outside of cricket, other sports have also been effected. It is suggested that Pakistan supplies 90% of the hockey sticks used in India, and would suffer heavily from an increase in customs duty of 200%. As a result, the hockey fraternity in India would have to quickly find new suppliers who could match the demand, as well as replicate the quality from across the border. The Shooting World Cup, which was taking place in New Delhi a week after the attack and was intended to be an Olympic qualifier, also got dragged into the conflict when Pakistani athletes were not granted visas to participate in the tournament.
Further economic sanctions would come later, followed by military responses, but it appears that the use of sports sanctions was going to kick start this 'Operation Isolation'.
However, these sanctions did not prove to be effective in isolating Pakistan on the sports field. We saw the PSL replace its distributors almost immediately and have yet another successful edition. Regarding the World Cup, wide coverage of the discussions between the BCCI and the International Cricket Council (ICC) were made public, including copies of the communication between the two bodies. It is clear that the ICC and the organising team of the World Cup do not condone any political battles being played out on the cricket pitch.
The ICC has given a green signal to India-Pakistan world cup match. ICC CEO Dave Richardson released a statement saying that the India-Pakistan World Cup match will go ahead as planned. More details by @Aruneel_S #BoycottPak pic.twitter.com/iH8CWGYBlC

— TIMES NOW (@TimesNow) February 20, 2019
Perhaps the most surprising stance came from the International Olympic Committee (IOC) in response to Pakistan's plea regarding the Shooting World Cup. Not only did the IOC revoke the tournament of its Olympic qualification status for the particular discipline, they further went onto suspend all discussions with the Indian government regarding hosting future sporting events in India. The IOC also recommended that all international federations should refrain from hosting any international sporting events in India until written guarantees are provided assuring participation of all athletes.
This may prove to be a landmark ruling from the Olympic governing body, which has traditionally not taken such a publicly strong stance on political matters. This is especially true as the initial plea was only to do with the shooting event. However, India is no doubt going to work to revoke this suspension as quickly as possible, even if it means salvaging its ties with Pakistan. Failure to do so could mean that a number of its hosting rights and bids would be up on the chopping block, including the FIFA Under-20 Women's World Cup (2020), the Hockey World Cup (2022/2023) and ICC Cricket World Cup (2023), among others.
International Olympic Committee have suspended all #Indian applications to host future events and urged international sports federations not to stage competitions in #India after two #Pakistanis were denied visas to compete in #NewDelhi. #Pakistan https://t.co/97A3OoeMUV

— Mehreen Zahra-Malik (@mehreenzahra) February 22, 2019
This of course is not the first time tensions have escalated between the two neighbours, nor is it the first time that the field of play is used for sanctions to be deployed and political statements to be made.
India-Pakistan cricket relations have been turbulent ever since they kicked off in 1952. There have been many positive outcomes where both countries have hosted each other on multiple occasions and opened up their borders for citizens to travel in support of their teams. At the same time, boycotts from governing bodies and protests from ordinary citizens have also had the opposite impact on cricket and other sporting ties between the two nations.
The Indian cricket tour to Pakistan (2004) is considered as one of the four most prominent acts of sports diplomacy, with the 'Christmas Truce' of World War I (1914), where German and British soldiers were said to have held informal sessions of casual football on Christmas day, being number one.
Even outside of the subcontinent, sports have always been a feature of international diplomacy, albeit a more subtle one. We have seen countless protests and boycotts when it comes to international sports, such as the Black Power Salute (at the 1968 Olympics), America's boycott of the 1980 Olympics during the Cold War,  the Soviet Union's boycott of the 1984 Olympics, and the international sporting boycott of Apartheid South Africa. However, it would not have been difficult to foresee the potential for sports to have these impacts when the Olympic movement was first initiated. After all, it was developed on the sole idea of using sports to encourage and improve peace among the warring kingdoms in Ancient Greece.
The way international sports are conducted and covered today, indicates their potential and ability to bridge gaps between nations. With massive potential to be used as a catalyst in international diplomacy and break barriers, the power of sports can only be as strong as the will and commitment of our global leaders. In an era where hard power is frowned upon by the international community, governments are increasingly inclined to use alternative modes of diplomacy, sports included, to achieve their political goals and shape their international image. If we, the people, can understand the relationship between the two, then we can also influence its impact.
This isn't the first time sports have been used to convey and act upon undertones of conflict and hate, and it unfortunately won't be the last. For now, we can be aware of how these actions relating to the field of play can be used to condition or influence certain emotions within us, and also pray that our leaders use the pitches and courts to help us come together, rather than to push us apart.